Update, August 6, 2020 (8AM ET): WhatsApp is now rolling out the new Advanced Search feature to Android beta tester months after it was implemented on iOS (h/t WABetaInfo).
You will need to be a WhatsApp beta tester for Android and have app version 2.20.197.7 or higher to access the feature. It's a server-side update from WhatsApp so you might not see the new feature immediately after getting the latest beta version of the app.
WABetaInfo advises that if you really can't wait for the feature to roll out to you, then you can delete and re-download WhatsApp. When you reinstall the app, you should get the most recently updated configurations from the server.
---
Original article, April 8, 2020 (5:50AM ET): WhatsApp has received quite a few features in the last year or two, ranging from dark mode and Any.do integration to a ton of privacy features.
Now, frequent leaker WABetaInfo has uncovered several more upcoming features, starting with advanced search capabilities. This feature is reportedly active in the iOS beta, but the source has shown off screenshots of the feature on Android.
The screenshots show the ability to quickly search for any type of media, allowing you to specifically search for documents, links, GIFs, videos, or audio. There's no word on whether you can drill down even further, such as searching by file size for videos. Nevertheless, the ability to search by media type is a big improvement over the purely text-based system used right now.
The second apparent feature discovered by WABetaInfo is the pending ability to protect your backups with a password. A screenshot of the feature (seen below) shows that your password needs to be eight characters long and is case-sensitive. The leaker notes that WhatsApp and Facebook don't save your password, so you can't access your backup if you lose this password.
WABetaInfo
Finally, WhatsApp is purportedly tweaking its auto-download functionality to take note of frequently forwarded media. More specifically, it's believed that WhatsApp will disable the automatic downloading of frequently forwarded media (e.g. messages, voice notes, videos). This might be a handy way to avoid widely circulated hoaxes and/or memes.
There's no word on when these features will land in the stable version of WhatsApp. After all, the leaker first reported on WhatsApp's dark mode in 2018, and it only arrived for stable users in 2020.
More posts about
WhatsApp
10 best messenger apps and chat apps for Android!

Joe Hindy


WhatsApp could finally let you mute those pesky group chats forever

Hadlee Simons


We could be closer to getting multiple device support in WhatsApp

Hadlee Simons


WhatsApp appears to be down, but here are 5 easy fixes to try to fix it

Mitja Rutnik


Google Duo: How does it compare to WhatsApp, Skype, and other rivals?

Mitja Rutnik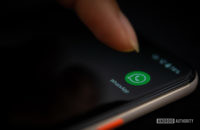 Samsung now offers customer support through WhatsApp for India

Jon Fingas


From animated stickers to QR codes, here's what's new in WhatsApp

Hadlee Simons