As with many things in 2020, Black Friday took a different form this year as many retailers hosted month-long sales and urged consumers to shop online in an attempt to avoid super-spreader events. The result of these efforts was a surge in first-time installs of mobile shopping apps in the United States, which climbed nearly 8 percent year-over-year on November 27 to reach a new single-day record of approximately 2.8 million, preliminary Sensor Tower Store Intelligence estimates show.
This showed approximately the same growth as Black Friday 2019, when shopping app installs from the U.S. stores experienced 8 percent growth Y/Y. However, installs in the shopping category experienced more growth throughout the month, perhaps boosted by ongoing sales.
According to our preliminary estimates, combined Shopping category installs across the U.S. App Store and Google Play reached approximately 59.2 million between November 1 and November 29, up about 15 percent from 51.7 million in the same period in November 2019. This is more than 10 percentage points greater than the 2 percent Y/Y growth experienced during this period in 2019.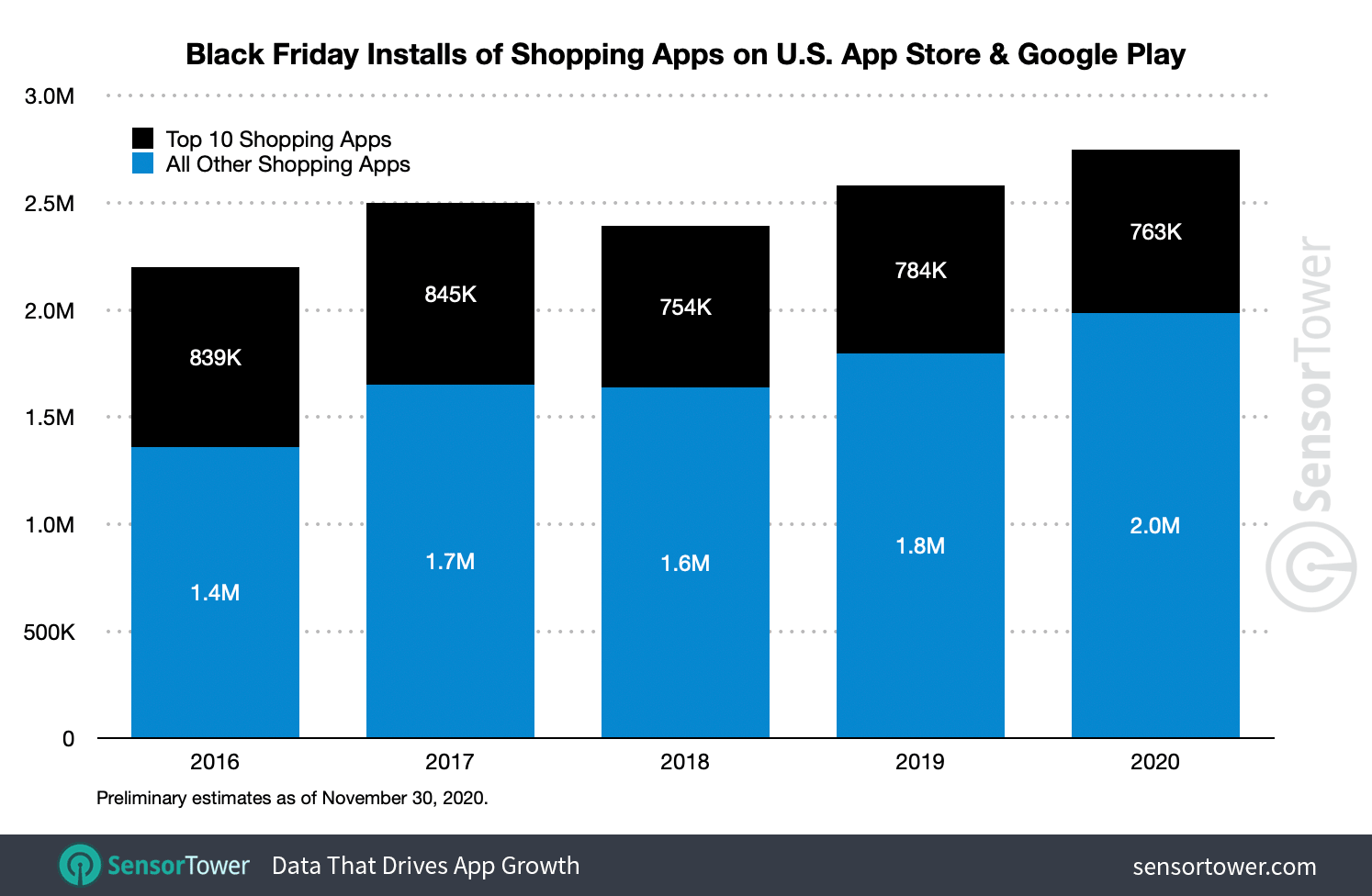 Top Shopping Apps
Our recent Mobile Retail Trends Fall 2020 report revealed that U.S. consumer adoption of apps from brick-and-mortar (B&M) retailers have grown 27 percent Y/Y in the first three quarters of the year. Among the top downloaded shopping apps on Black Friday, five of the top 10 were from B&M retailers.
Out of the top 10 apps, Walmart saw the greatest adoption with 131,000 installs, followed by Amazon with 106,000 at No. 2 and Shop with 81,000 at No. 3. The cohort of top 10 apps represented 763,000 installs, or 27 percent of first-time downloads in the Shopping category on Black Friday.
Holidays on a Budget
Although countries such as the U.S. are experiencing a deepening recession, that hasn't diminished consumers' interest in shopping. Rather, it has shifted the focus to budget-friendly options or payment plans. U.S. active users of buy now, pay later (BNPL) apps have grown each month this year, and the Shopping category across the App Store and Google Play has seen more new apps launched in 2020 than in 2019, many of which focus on offering discounts and deals. Retailers are also spreading their events out over several days, widening the window of opportunity for budget-conscious consumers to partake.
As we enter 2021, retail events may continue to take a different shape and become extended affairs rather than one-day sales, following the examples of Black Friday and Singles' Day this year. Consumers will adapt their usage of apps accordingly, necessitating that their makers evolve their thinking around marketing and discovery to match, as they did when confronting the "new normal" of mobile shopping earlier this year.
Sensor Tower's Store Intelligence platform is an Enterprise level offering. Interested in learning more?