Player spending in mobile Sports category games in the United States rose by approximately 16 percent to $648.8 million during the past 12 months, Sensor Tower Store Intelligence estimates show.
Utilizing Sensor Tower's Game Taxonomy and Game Intelligence products, which segments games into relevant genres and subgenres to support publishers in efficiently identifying key trends, we analyzed the Sports genre to see how it has performed over the last year and gain insights into which of its three subcategories has proven the most lucrative and installed.
Top Titles by Revenue and Downloads
The top Sports game by player spending in the U.S. between June 1, 2020 and May 31, 2021 was Golf Clash from Playdemic, part of the Arcade Sports subgenre, which generated $132.8 million. The No. 2 and No. 3 grossing Sports titles were 8 Ball Pool from Miniclip and Fishing Clash from Ten Square Games, respectively, both part of the Realistic Sports subgenre.
When it comes to downloads, the Sports genre picked up 129.3 million installs during the last year, a decrease of 16.3 percent Y/Y. The top title for installs was 8 Ball Pool, which accumulated 9.4 million downloads. The No. 2 Sports title for U.S. downloads during the last year was Madden NFL 21 Mobile from EA, while Basketball Arena from Miniclip-owned Masomo ranked No. 3.
The Realistic Sports subgenre was the No. 1 revenue generator of the three Sports subcategories during the last year, with player spending increasing by 11.4 percent Y/Y to close to $382 million. The fastest-growing subgenre by revenue, meanwhile, was Sports Manager, which includes titles such as Top Eleven by Nordeus and F1 Clash by Hutch Games, rising by 60.4 percent Y/Y to approximately $12 million. It should be noted, however, that each subgenre consists of a different number of titles.
Sports Champions
Realistic Sports was also the No. 1 subgenre for downloads, accumulating 75.7 million installs. The fastest-growing subcategory for downloads, meanwhile, was Sports Manager, with installs rising by 17.8 percent Y/Y to 3.7 million.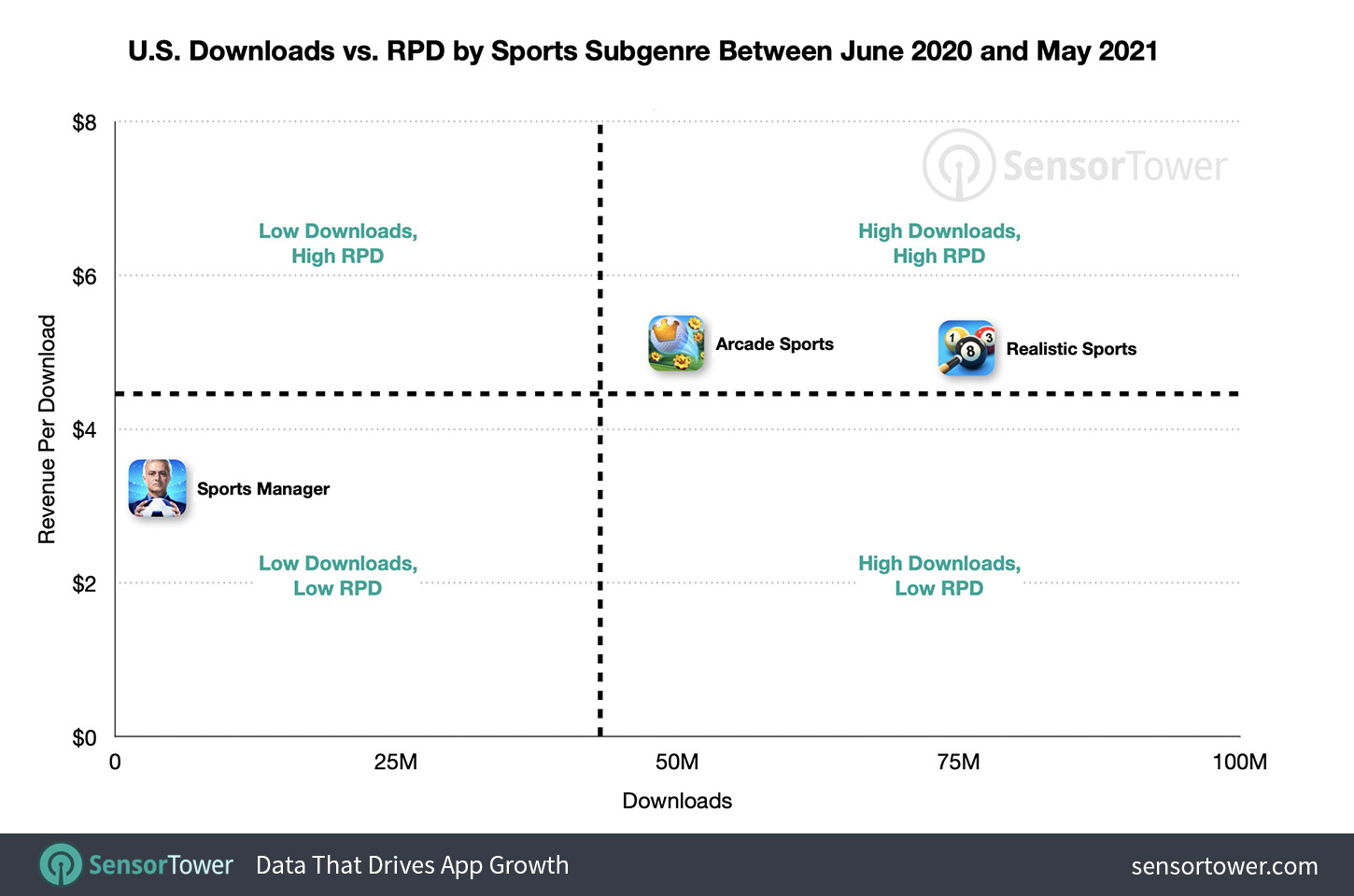 Analyzing revenue per install, Arcade Sports was the leader, generating approximately $5.10 in spending per download over the last year. Realistic Sports ranked No. 2, while Sports Manager ranked No. 3. It should be noted, of course, that this metric does not take into consideration lifetime RPD, and so historical downloads are not used.
Rising Stars
As with all other genres, Sports games have seen strong growth over the last year, which can be attributed, in part, to the global COVID-19 pandemic and lockdowns. Sports was the No. 10 genre by player spending in the U.S. over the last year, making it relatively small compared to some other categories, but it's one that is generating increased attention and M&A activity. Take-Two recently acquired Top Eleven developer Nordeus for up to $378 million, while MTG purchased F1 Clash studio Hutch Games for up to $375 million in 2020. EA, meanwhile, noted in its recent earnings call that it plans to grow its mobile sports business by 50 percent this year, making this genre one to watch.
Sensor Tower's Store Intelligence platform is an Enterprise level offering. Interested in learning more?