Player spending in mobile Simulation games in the United States grew by 63.2 percent in H1 2020 compared to H1 2019, Sensor Tower Store Intelligence estimates show, making it the fastest growing genre so far this year by revenue.
Utilizing Sensor Tower's new Game Taxonomy feature, which segments games into relevant genres and subgenres to support publishers in efficiently identifying key trends, we analyzed each of the 12 main game categories in the U.S. in H1 2020 compared to H1 2019, looking at the top 100 games by revenue and download in each genre. It's worth noting that the first six months of this year represented the height of the global COVID-19 pandemic and resulting lockdowns, which have greatly impacted all businesses around the world, including mobile games.
Rapid Revenue Risers
Simulation, top titles of which include Roblox from Roblox Corporation and Township from Playrix, was the fastest rising genre, up 63.2 percent year-over-year to more than $851 million for the top 100 revenue-generating games in the category. The largest Simulation subgenre for player spending was Sandbox, which generated $368.8 million, up 96.5 percent Y/Y.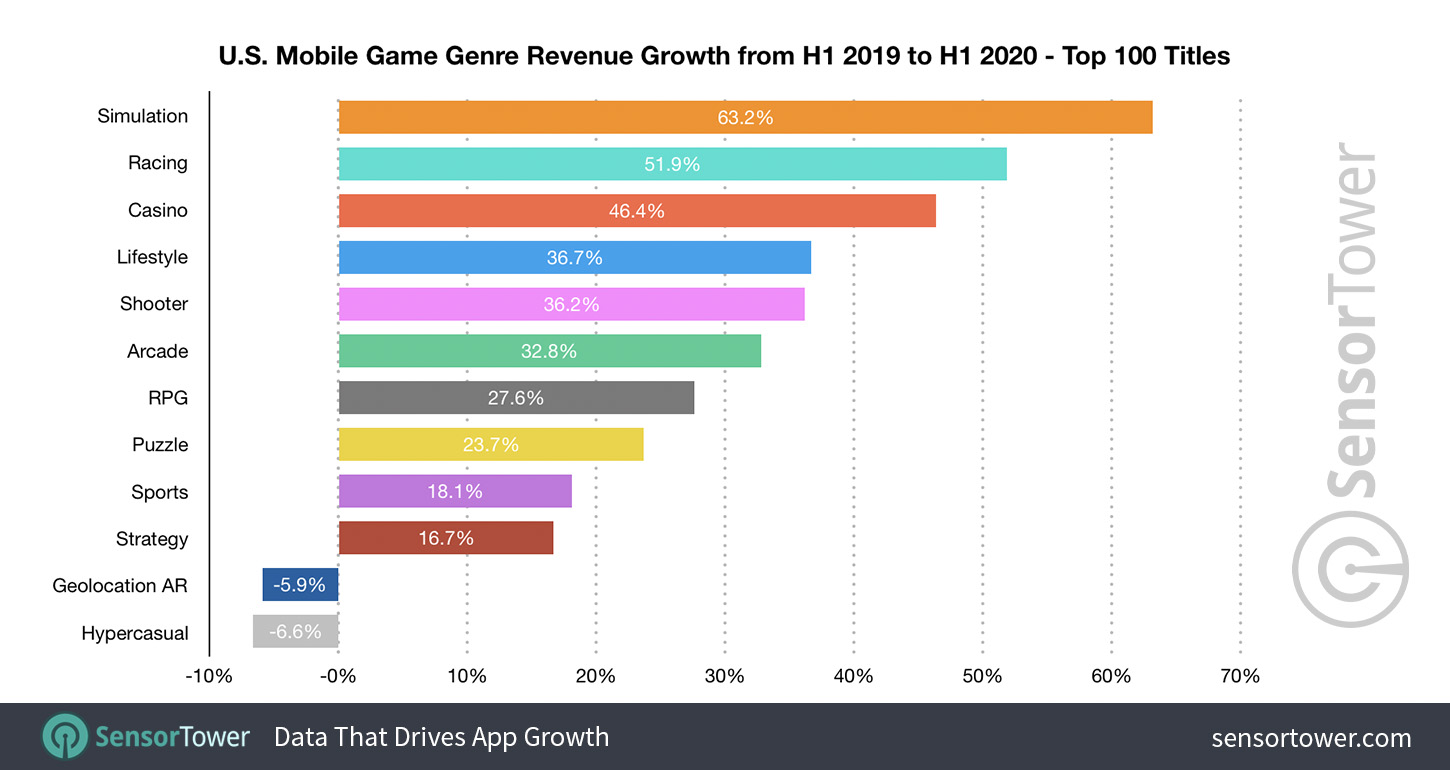 The second fastest-growing genre by revenue in H1 2020 was Racing, which increased by 52 percent Y/Y to $110.3 million. Casino, meanwhile, ranked No. 3 for growth, with player spending rising by 46.4 percent Y/Y to $2.1 billion.
Casino was also the largest category by spending in H1 2020, followed by Puzzle, which generated $2 billion amongst its top 100 titles, and Strategy, which accumulated $1.5 billion.
Dealing in Downloads
The Casino genre, which includes games such as Coin Master from Moon Active and Slotomania from Playtika, was the fastest riser for downloads, with installs increasing more than 39 percent Y/Y in H1 2020 to 89.4 million for the top 100 most downloaded titles in the category. The top Casino subgenre for downloads was Slots, which rose by 14 percent Y/Y to 44 million installs.
The second fastest-growing genre by downloads was Racing, with installs increasing 33.3 percent Y/Y to 75.6 million, while the Shooter genre ranked No. 3, with downloads up nearly 33 percent Y/Y to 85.5 million.
Hypercasual was far and away the largest genre by downloads in H1 2020, with the top 100 titles in the category generating 508.3 million installs. Puzzle ranked No. 2 for downloads, racking up 262.2 million installs, while Arcade rounded up the top three with 167.8 million downloads.
Category Insights
We've already analyzed the impact the global pandemic and lockdowns have had on the mobile games market, which showed revenue surging 27 percent Y/Y in Q2 2020 to $19.3 billion, while downloads increased by 45.2 percent to more than 15 billion.
By using the Game Taxonomy genre definitions, we now have a closer look at which genres benefitted the most from stay-at-home orders in the U.S., and where the increases in revenue and downloads have emerged from. Casino's rise of $650 million in player spending during H1 2020 alone compared to the year prior shows the category was one of the main benefactors. Not only that, but most genres saw downloads and revenue increase during the first half of the year, leading games of all types to grow substantially more than between 2018 and 2019. A larger percentage of consumers with more free time to play have clearly coalesced around a handful of genres, however, as our findings show. The outsized growth of these genres should make them focal points for publishers looking to seize on emerging trends in consumer behavior during the ongoing pandemic.
Sensor Tower's Store Intelligence platform is an Enterprise level offering. Interested in learning more?