The average amount spent in apps per active iPhone in the United States grew to $138 in 2020, an increase of 38 percent year-over-year according to Sensor Tower Store Intelligence data. This includes spending on in-app purchases and premium apps, but excludes commerce apps such as Amazon, rideshare services like Uber, or other apps where purchases are not directly processed by the App Store.
Average Revenue Per Active iPhone
Average in-app spending per U.S. iPhone reached a new record in 2020 and saw the greatest annual growth since 2016 when it grew 42 percent Y/Y. At the same time, this growth significantly exceeded the 27 percent Y/Y increase seen between 2018 and 2019 when it rose from $79 to $100.
This increase in consumer spending per active iPhone mirrored global trends, which saw [consumers spending more overall]((https://sensortower.com/blog/app-revenue-and-downloads-2020) last year as they turned to their mobile devices for a wide array of reasons during the COVID-19 pandemic.
Top App Categories By Average Spending Per iPhone
Per-device spending in mobile games saw explosive growth in 2020, leaping from $53.80 in 2019 to $76.80. This represents Y/Y growth of 43 percent, more than 20 points higher than the 22 percent Y/Y growth seen in 2019 when in-game spending climbed from $44.
An analysis of Sensor Tower Game Intelligence data reveals U.S. iPhone users spent the most in Puzzle games per device, averaging $15.50 on the category, which includes titles such as Candy Crush Saga and Gardenscapes. The Casino category saw the next highest user spending, averaging $13.10, followed by Strategy, which saw a surge in revenue last year and saw an average of $12.30 per iPhone in user spending.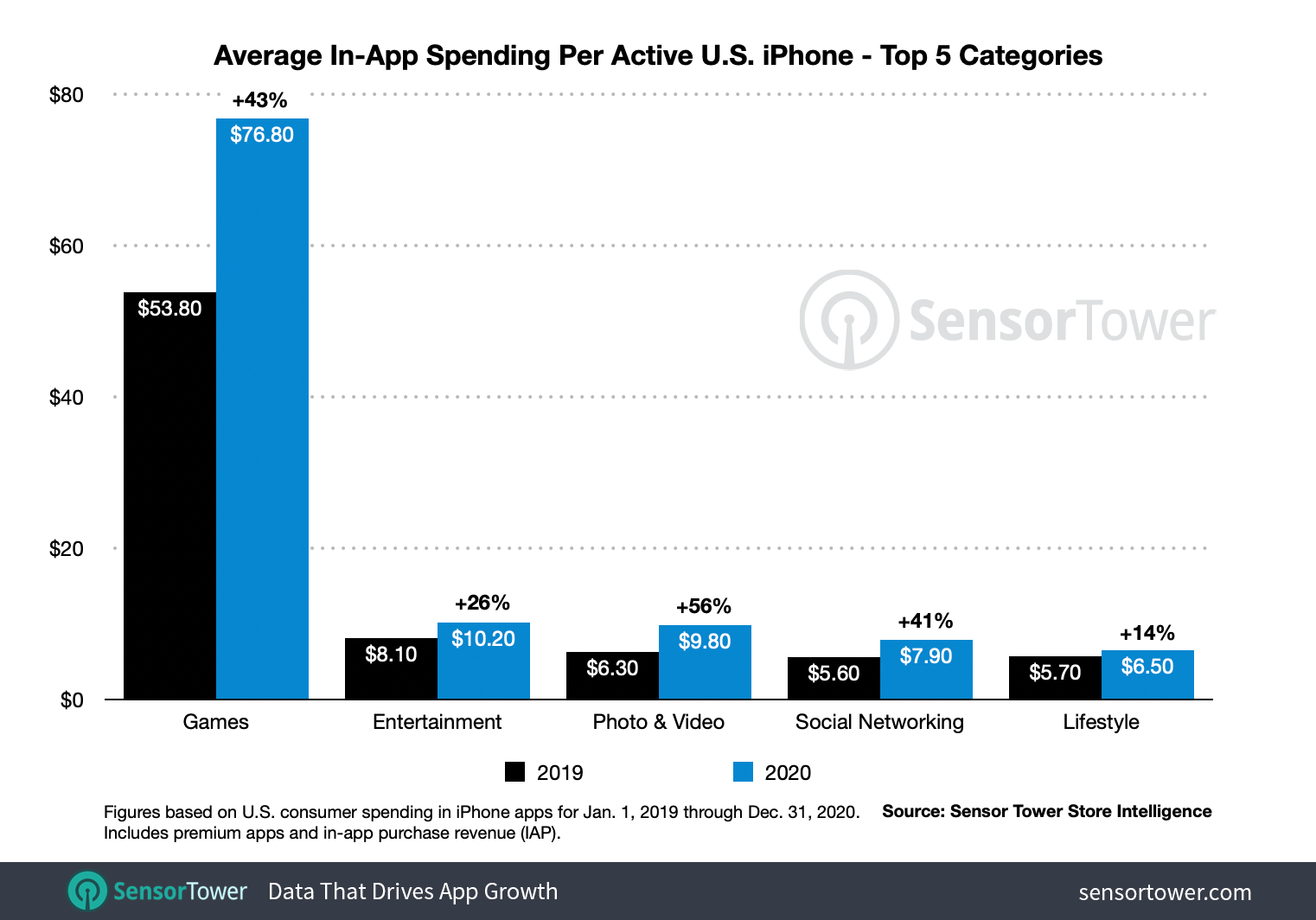 Mobile gaming saw a significant boost in 2020 due to the COVID-19 pandemic as consumers sought at-home activities and new ways to socialize with friends. This is reflected by the spike experienced by the Open World Adventure category, which often feature a multiplayer option, and Social Party games.
Along with games, per-iPhone spending in Entertainment category apps boomed during the pandemic. With the shutdown of in-person spaces such as movie theaters, many consumers turned to streaming services such as Disney+ for content. Average per-device spending in this category was the second highest in our analysis at $10.20, an increase of 26 percent over the $8.10 spent in 2019. In comparison, per-device spending in this category grew just 1 percent between 2018 and 2019.
User Spending Returns to Stable Growth After An Outsized Year
Average consumer spending on apps per iPhone in the U.S. has grown considerably each year at no less than 20 percent, and that trend is unlikely to change soon. Since consumer habits may shift as in-person spaces begin to open once again, 2021 might very well see less significant year-over-year growth than 2020. However, this doesn't point to a decline in the growth of mobile revenue, but rather exemplifies how extraordinary last year was due to the unanticipated global pandemic.
About The Data in This Report
The figures in this report are based on an estimate of active iPhone devices in the United States for calendar years 2015 through 2020, as produced by Sensor Tower. iPhone category and app revenue estimates for the corresponding period were generated by Sensor Tower's Store Intelligence platform.
Sensor Tower's Store Intelligence platform is an Enterprise level offering. Interested in learning more?