Travel apps in the United States were negatively impacted by the travel bans imposed following the outbreak of COVID-19 in 2020. However, this year's rollout of multiple COVID vaccines gave consumers the opportunity to travel again and top Travel apps in the U.S. saw growth following the ongoing reopening of the country. Sensor Tower's latest report, available now, dives into recent trends and rankings of four subcategories including airlines, e-bike sharing, ride hailing, and travel booking.
U.S. Travel Apps Surpass 85 Million Downloads, Growing 128 Percent
Although first-time installs of the top Travel apps in the U.S. fell 56 percent year-over-year in Q2 2020, adoption successfully rebounded in Q2 2021. U.S. quarterly downloads of top Travel apps reached 61.4 million on Apple's App Store and 23.8 million on Google Play in Q2 2021, which accounted for the highest quarterly adoption since the outbreak of COVID-19. Quarterly downloads of top Travel apps are 1 percent higher than Q2 2019.
Travel Booking Apps Recover From Early Pandemic Loss in Q2 2021
Top travel booking apps including Hopper, Booking.com, and Travelocity collectively saw downloads grow 81 percent in Q2 2021 compared to Q2 2019. Accounting for 27 percent of the cohort's downloads, Hopper had the highest market share in H1 2021 among the top apps in the subcategory and regained the downloads by soaring 197 percent in 2Q21 compared to 2Q19. Skyscanner and Trivago were also heavily impacted in downloads during the beginning of the COVID-19 outbreak when both apps dropped by 78 percent and 70 percent in downloads. Skyscanner has not yet reached a full recovery, but downloads rose to successfully recover 69 percent of the pre-pandemic downloads in Q2 2021.
E-Bike Sharing Sees Room For Growth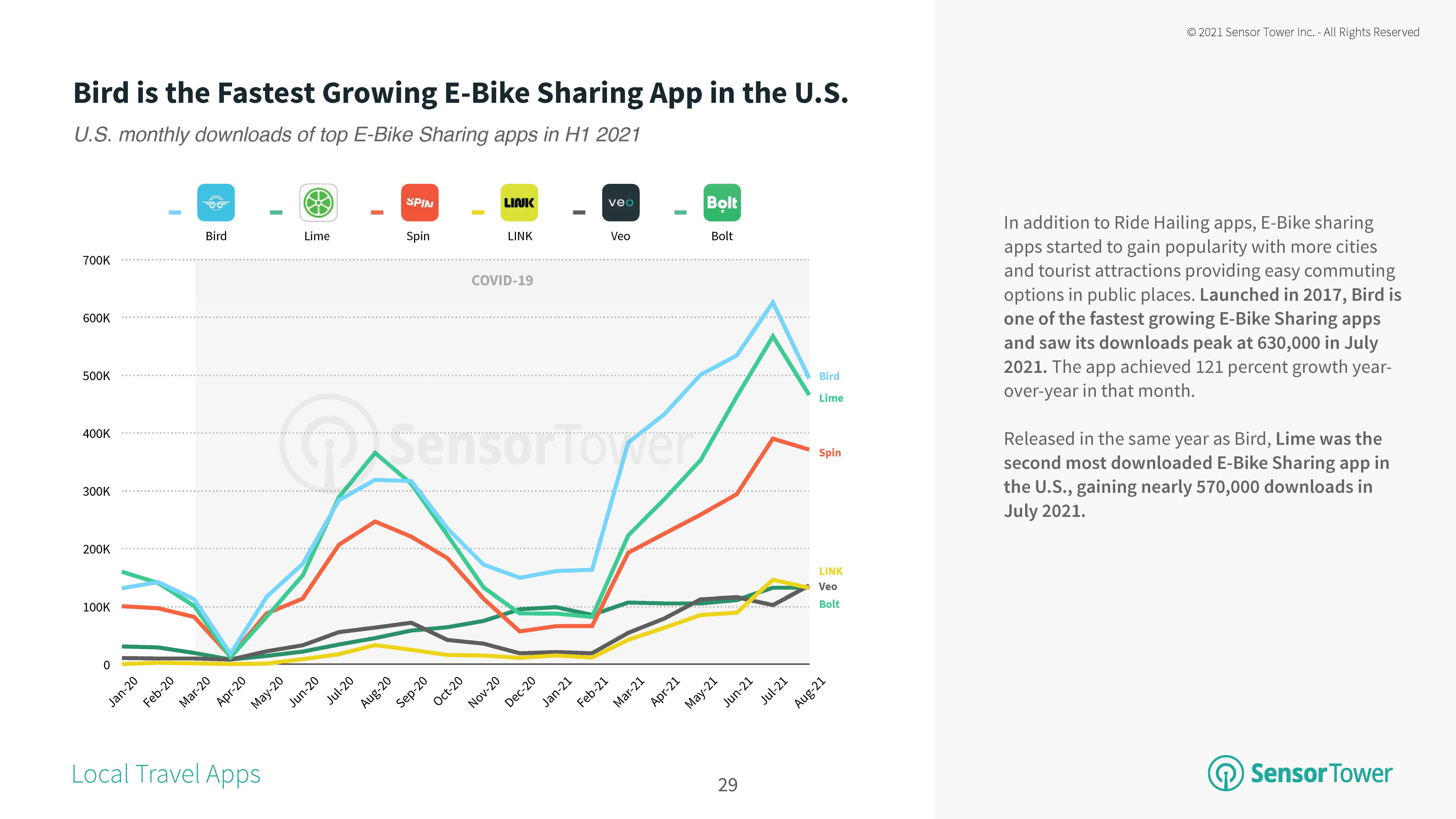 In addition to ride sharing apps like Uber and Lyft, e-bike sharing apps started to gain popularity again in February 2021 and downloads peaked in July 2021 as local travel was in demand. Bird and Lime remain the top two fastest-growing e-bike sharing apps followed by Spin. In July 2021, downloads for Bird peaked at 630,000, a 121 percent increase Y/Y in that month, and Lime gained 570,000 downloads.
For more analysis from the Sensor Tower Store Intelligence platform, including key insights on the performance of top Travel apps in the U.S., download the complete report in PDF form below: