The Battle Pass system of monetization and engagement was popularized by Fortnite from Epic Games, which generated $1.2 billion in spending on the App Store before it left the platform in August 2020. Since then, other titles have utilized the feature, including the highly successful implementation in PUBG Mobile from Tencent, which has powered that title, as well as its Chinese localization, Game For Peace, to more than $5 billion in revenue in just three years.
While not every implementation of a Season Pass is successful, there are some standout examples. Player spending in Lords Mobile from IGG, released in 2016, doubled month-over-month to $90.3 million in January 2021 following the introduction of the game's new Season Pass, dubbed Kingdom Labors, Sensor Tower Store Intelligence data shows. To take part in this, players are able to purchase a monthly Gold Pass or use the default Silver Pass, and in return for completing weekly tasks, they can obtain prizes.
Revenue for the game averaged at $42.5 million per month from October to December 2020, while player spending from January to March has averaged at $83 million, up 95.3 percent, as players continue to engage with the new Gold Pass. Not only has revenue risen from the introduction of Kingdom Labors, but it has stayed consistently higher than all months prior to 2021. Lifetime player spending in Lords Mobile has surpassed $2 billion, propelled past this major milestone by its adoption of a Battle Pass.
Farm Pass Frenzy
Another recent example of a title successfully implementing a Season Pass is Hay Day from Supercell and its new Farm Pass. Following its introduction in December 2020, player spending in the title increased by 62 percent M/M to approximately $14 million. From September to November 2020, Hay Day revenue averaged at $9.7 million a month, while from December to February 2021, average monthly player spending increased by 46.4 percent to $14.2 million. Hay Day revenue continues to remain high, generating $15.6 million in March 2021, the game's most lucrative month since July 2017. The title was first released in 2012.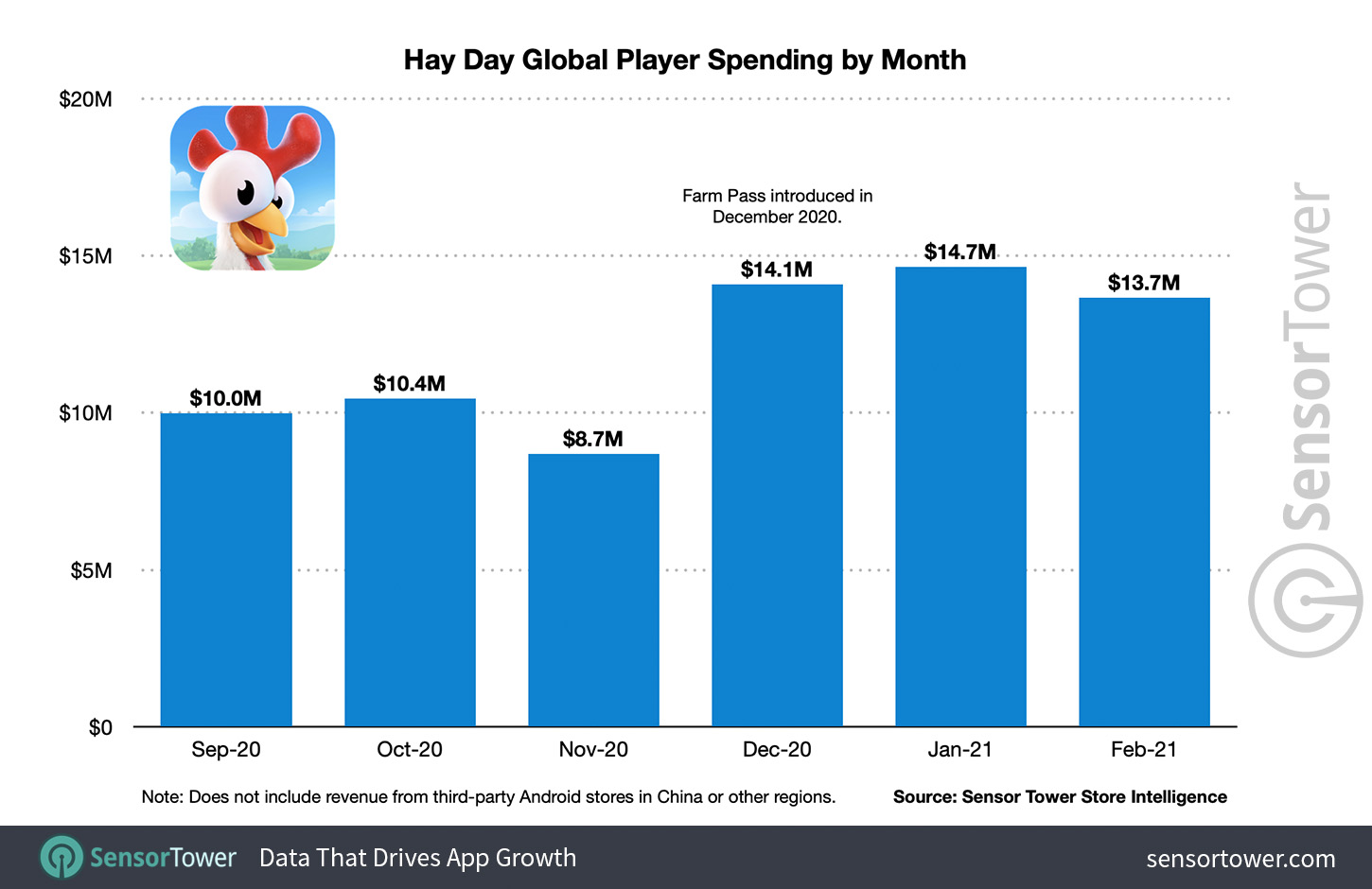 Township Experiments
In November 2019, Township from Playrix introduced Professor's Experiments—its own version of the Season Pass—with player spending increasing by more than 22 percent M/M to $29.8 million, which at the time was its best month ever for revenue. That level of spending was not maintained in the subsequent months, however, but almost every new Season has led to a surge in revenue. Season 2 in March 2020 saw revenue rise by 12.8 percent M/M to $25.5 million, while Season 3 in May of last year saw player spending increase by approximately 33 percent M/M to $33.4 million.
Seasonal Success
Another example of a successful implementation of the system is Clash of Clans from Supercell, which saw player spending increase by 58 percent M/M in April 2019 to $66.8 million following the launch of its Season Challenges and Gold Pass. The introduction of the pass halted what had been a yearly decline in revenue for the title, ending 2019 with a 25 percent increase in revenue year-over-year at $731 million. While player spending declined in 2020, it remains above 2018 levels.
As these games show, when implemented properly, a Season Pass can lead to a consistent rise in monthly player spending, or at least notable surges in revenue upon the release of each new season, without negatively impacting typical monetization levels prior to their introduction.
Sensor Tower's Store Intelligence platform is an Enterprise level offering. Interested in learning more?