Japan accounted for 22 percent of all global mobile game player spending from the App Store and Google Play in the first nine months of 2020, according to Sensor Tower Store Intelligence estimates.
This market holds a special place in the games industry's history. It's the home of many of the leading console platform holders over the decades: Nintendo, SEGA, and Sony. It's birthed acclaimed global franchises such as Mario, Metal Gear, Pokémon, Final Fantasy, and Resident Evil to name just a few. It's still a heavyweight in gaming, make no mistake, but often missed is the sheer size of its mobile gaming stars, where you'll find Japan's secret hits and missing billions.
Billion-Dollar Babies
Puzzle & Dragons from GungHo Online Entertainment, released in 2012, was one of the world's first billion-dollar free-to-play mobile games. Monster Strike from Mixi followed in 2013, with the two titles bringing in a combined $13.7 billion since January 2014.
Meanwhile, other titles published by Japanese companies that have generated billions of dollars include Fate/Grand Order from Sony's Aniplex, Dragon Ball Z: Dokkan Battle from Bandai Namco, and Disney Tsum Tsum from Line Corporation.
Back in 2014, Japan's mobile games market generated $5.6 billion, accounting for 29.2 percent of global player spending on the App Store and Google Play. Since then, the market peaked at close to 30 percent of global revenue in 2015, falling to almost 23 percent in 2019 as the U.S. and China markets grew—but that's still nearly a quarter of worldwide mobile player spending at a local market record of $14.5 billion. From 2014 to 2018, Japan was the No. 1 market in the world for combined App Store and Google Play game revenue, ranking No. 2 behind the United States in 2019 and 2020 as of Q3.
Japan Market Dominance
Impressively, Japanese publishers continue to maintain a hold over the local app stores when it comes to player spending. Over the last five years from January 1, 2016 to September 30, 2020, eight of the top 10 revenue-generating mobile games in Japan were from Japanese publishers, with seven of those accumulating more than $1 billion in that time. Pokémon GO from Niantic was also a top 10 grosser, and while it was developed by a U.S. developer, the IP has its roots firmly in Japan.
The dominance of Japanese publishers in their local market holds extra significance when taking into account that the country has one of the world's most lucrative mobile games markets in the world.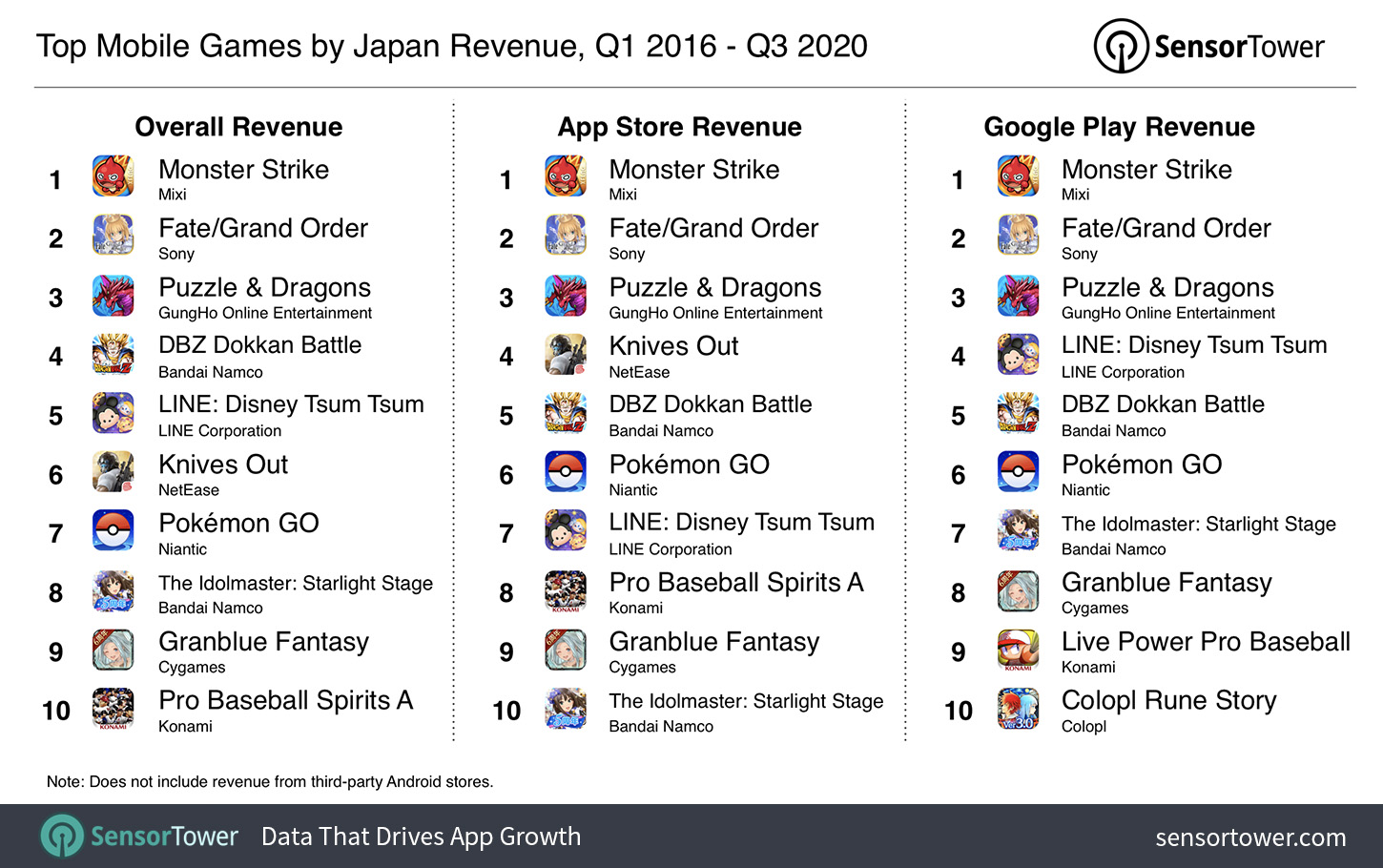 Taking a look at the performance of Japanese games companies on the global stage, from January 1, 2020 to September 30, 2020, two of the top 10 revenue-generating publishers were from Japan, with Bandai Namco generating $1.5 billion and Square Enix accumulating $1.2 billion. Other Japanese giants such as Sony, Konami, and Mixi also made it into the top 20 global grossers, meaning publishers from the country made up 25 percent of the world's top 20 revenue-generating mobile games firms in Q1 to Q3 2020. This puts it on par with China, which also had five publishers in the top 20, though China-acquired companies such as the Tencent-owned Supercell and Chinese consortium-owned Playtika also feature.
The top 10 revenue-generating games published by Japanese companies have also been accumulating more from player spending each year overseas. In 2019, revenue for the top 10 Japanese games, based on spending outside of the country, surpassed $1 billion for the first time. Player spending grew a further 3 percent year-over-year from 2018, adding an additional $25 million in international revenue, accounting for 2.1 percent of global revenue for games from the App Store and Google Play, excluding Japan. So far in 2020, revenue for the top 10 Japanese games abroad has hit $814.5 million, accounting for 1.7 percent of global revenue outside of Japan.
There are two clear leaders powering Japan's international growth: Dragon Ball Z: Dokkan Battle generated a record $273.6 million outside of the country in 2019, while Fate/Grand Order accumulated $273.3 million outside of Japan.
International Influence
Japan's year-over-year revenue growth in 2019 fell to single digits for the first time in 2019, with player spending rising four percent from 2018, but the sector still saw an increase of $583 million to $14.5 billion last year. Internationally, growth is also slow, with the country awaiting its next global hit as its neighboring China takes the limelight with worldwide hits like PUBG Mobile from Tencent and Genshin Impact from MiHoYo—the latter generating $60 million in its first week. But if there was ever any doubt about Japan's influence over the global games sector over the last decade, you need look no further than mobile to see just how big this famous industry remains.
Sensor Tower's Store Intelligence platform is an Enterprise level offering. Interested in learning more?