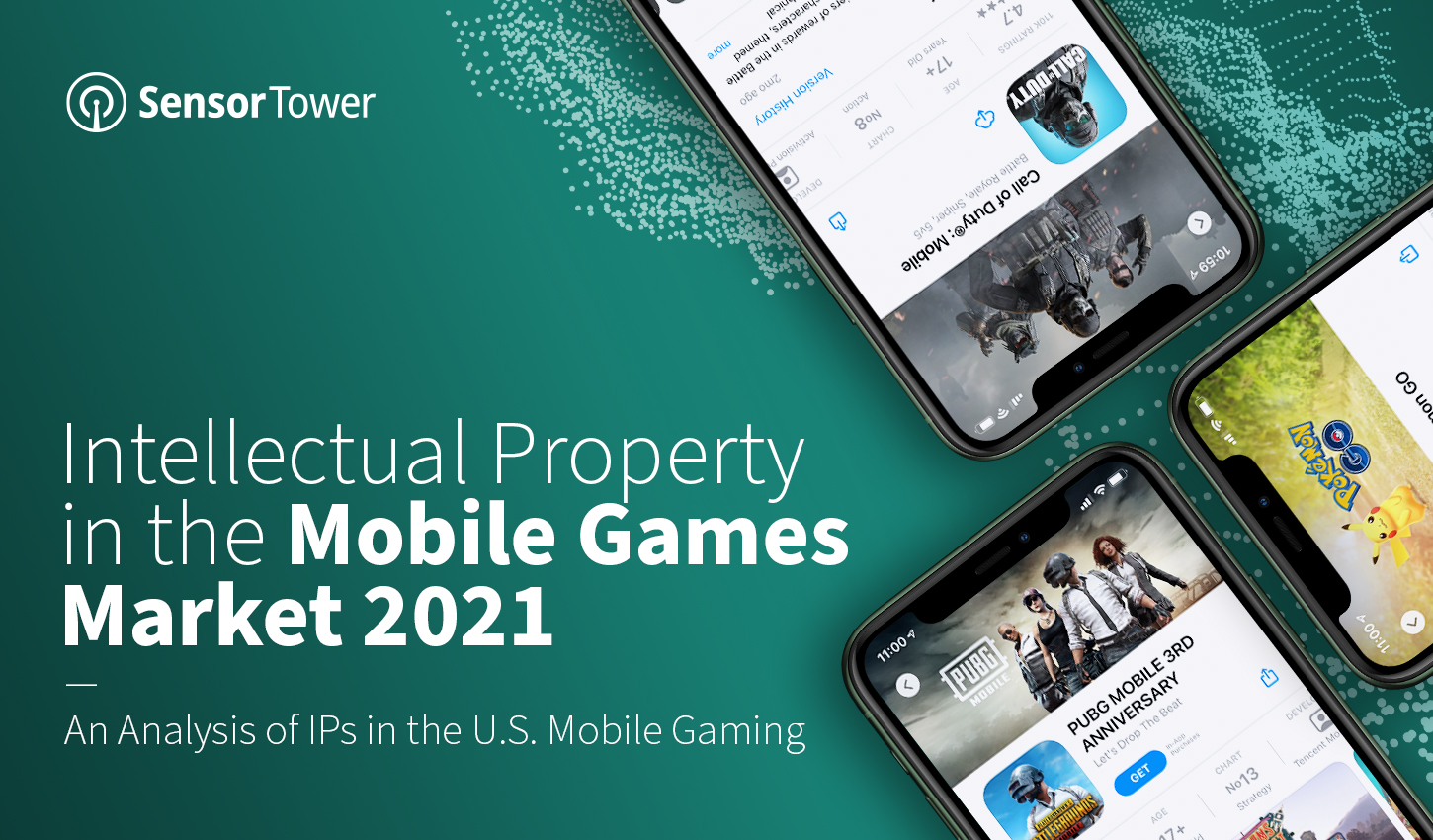 Many of the world's top intellectual properties (IPs) are increasingly being leveraged in the mobile games space, originating from sectors including film, comic books, and video games. Useful as a marketing tool, IP may become more important in a post-IDFA landscape where granular targeting is impossible. Utilizing the new IP classification types found in Sensor Tower's Game Intelligence platform, our latest report, Intellectual Property in the Mobile Games Market 2021, delves into the licensing world to analyze the top performing franchises and how the performance of licensed titles compares to that of non-IP games.
Billion-Dollar Market
Three of the top 10 revenue generating mobile games in the United States during 2020 utilized IP: Pokémon GO from Niantic, PUBG Mobile from Tencent, and Call of Duty: Mobile from Activision, developed in partnership with Tencent's Timi Studio. An additional two titles, Marvel Strike Force from Scopely and Dragon Ball Z: Dokkan Battle from Bandai Namco, also held positions in the top 20 grossing games across the U.S. App Store and Google Play. Combined, these five titles accumulated $1.4 billion from player spending in the U.S. last year, led by Pokémon GO with $480 million.
Market Share
In 2020, 23 percent of overall mobile game player spending in the U.S. was generated by IP-based titles. The market share for downloads was slightly smaller, making up 17 percent of all installs. The overall market share of IP games, however, is outsized compared to the number of licensed titles. While only 9 percent of games used an IP, they accounted for nearly a quarter of player spending.
As well as taking up a notable market share, the growth of IP games also matches and exceeds that of non-licensed titles. Comparing just the top 10 grossing IP and non-IP games in the U.S., Sensor Tower data shows that these games had similar year-over-year growth of 33.8 percent in 2020, while installs for the top 10 grossing IP games increased by about 31 percent Y/Y, compared to a 3.9 percent decline in downloads for the top 10 non-IP titles.
IP Leaders
Video game IPs accounted for a third of revenue generated by licensed mobile games in the U.S. during 2020, more than double the share from any other IP type. The leading franchise in this category was Pokémon GO, which accounted for approximately 12 percent of all player spending from IP games last year, followed by PUBG Mobile at 7 percent and Call of Duty: Mobile at 6 percent. Manga ranked No. 2 for IP revenue with a 13 percent market share, followed by Television at No. 3 with 12 percent. Manga was also the fastest growing IP type, rising by 54 percent year-over-year in 2020.
Click on the interactive chart below to navigate IP-based game types and titles by revenue share among all IP titles.
Manga IP is dominated by Japanese licences such as Dragon Ball Z, Yu-Gi-Oh!, and The Seven Deadly Sins, which have proven popular with U.S. audiences. Meanwhile, Marvel accounted for the vast majority of player spending in Comics-based IP, led by Marvel Strike Force and Marvel Contest of Champions from Kabam.
Core Potential
Analyzing revenue growth Y/Y vs. IP proportion by genre in the U.S. during 2020, Sensor Tower data shows that core game genres such as Shooter, RPG, and Action had the largest percentage of IP, while also experiencing the fastest average growth.
While the Puzzle genre is one of the largest categories in the U.S., only 5 percent of its revenue comes from IP titles. In the Sports genre, meanwhile, IP accounted for more than a third of all player spending.
Diving Deeper
For more analysis from Sensor Tower's new IP features, including key insights into the top IP types, created in tandem with our Game Intelligence and Taxonomy tools, download the complete report in PDF form below: