Credit:
Edgar Cervantes / Android Authority
Pokecoins are extremely rare commodities in Pokemon Go. They can be used to buy a variety of things. They also represent the in-game currency that you buy with real money. There are tons of spam sites out there promising to give you free Pokemon coins, but these simply don't work. We highly recommend you don't even try them. For now, there are only two ways to get free Pokecoins in Pokemon Go, and we're going to show you both of them.
Also read: Our beginner's guide to playing Pokemon Go
How to get Pokecoins for free:
Use Google Rewards money
Take gyms
What to buy with Pokecoins?
---
Buy Pokecoins with Google Rewards money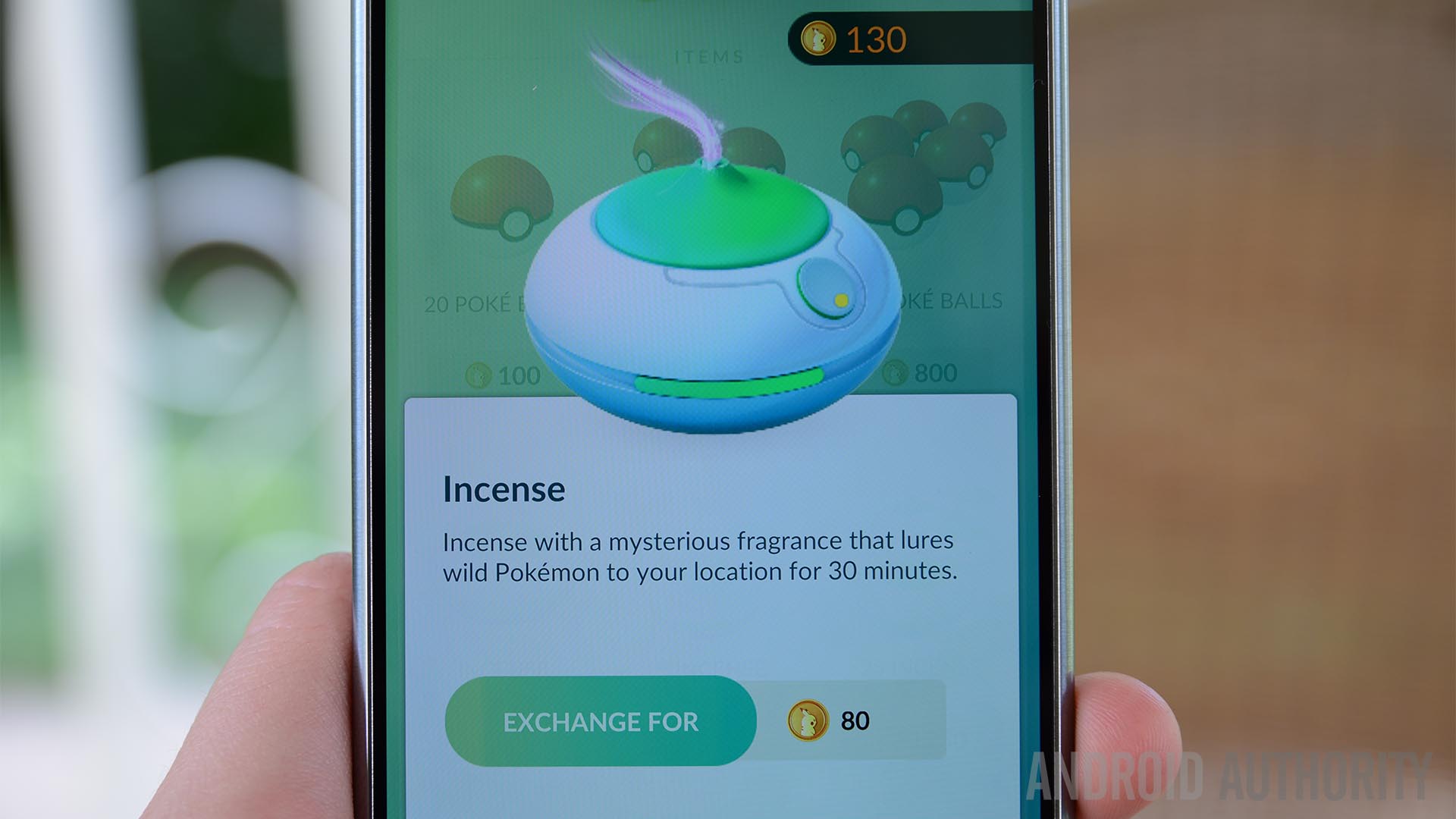 The first and most obvious way to get Pokecoins is to buy them. You can access this option in the Shop below along with all of the other things that you can buy with coins.
Pokemon Go Pokecoin prices:
$0.99 – 100 coins
$4.99 – 550 coins
$9.99 – 1200 coins
$19.99 – 2500 coins
$39.99 – 5200 coins
$99.99 – 14500 coins
This is a fairly standard pricing structure for Freemium games in general, and Pokemon Go is no different. We can already hear you saying "this is not free!". That's accurate and we're not debating that at all. However, there are ways to get Google Play credit for free, and you can use that to buy coins!
How to get free Google Play credit:
Download Google Opinion Rewards by clicking here.
Open the app to get it started. You may have to take an introductory survey.
Close the app and forget about it, then go hunting Pokemon as normal.
Over the coming days, weeks, and months, you'll receive notifications asking you to complete surveys in the app.
Each survey lasts only a few minutes and is usually comprised of a few questions.
Almost every time you complete a survey, you'll be given Google Play credit you can spend on Play Store purchases. That includes in-app purchases. It's important to note that not every survey will generate money so be aware of that.
Over time, you'll accumulate enough Google Play credit to buy Pokecoins! You won't be rolling in coins, but it's a nice boost every now and then.
Profit!
It's not the most efficient way to get free coins. We recommend you take this as an occasional treat rather than something you can do on a regular basis. Still, free coins are free coins, right?
Related: How to train in Pokemon Go
---
Taking gyms!
The only in-game way to earn Pokecoins is by taking down and fortifying Gyms. Here's how this method works:
Find a Gym and either take it down or fortify it so you can put your Pokemon there. If you don't know how to do this, check out our full Gym capturing and fortifying guide here!
You can only earn 50 Pokecoins a day. That's the daily limit.
You'll earn 1 Pokecoin per 10 minutes of your Pokemon defending a gym.
You can only have one Pokemon at one gin at a time.
You can only place Pokemon creatures in 20 gyms at once.
Of course, this means you'll have to be rather aggressive when it comes to taking down Gyms and fortifying them because others will be trying to get them as well. This will likely require tons of Potions so stock up!
---
What can you buy with Pokecoins?
Just in case you're new to the game, we'll quickly go over the things you can actually buy with Pokecoins:
Boxes: Pokemon Go sells different surprise boxes at different prices. These come with random items and prizes.
Passes: One Remote Raid Pass for 100 coins, Three Remote Raid Passes for 250 coins, One Premium Battle Pass for 100 coins.
Incubators: One Egg Incubator for 100 coins, One Super Incubator for 200 coins.
Poffins: One Poffin for 100 coins.
Poke Balls: 20 Poke Balls for 100 coins, 100 Poke Balls for 460 coins, 200 Poke Balls for 800 coins.
Incense: One Incense for 40 coins, eight Incense for 250 coins. Learn how to use Incense here!
Star Piece: One Star Piece for 100 coins, eight Star Pieces for 640 coins.
Max Potions: 10 Mac Potions for 200 coins.
Lucky Egg: One Lucky Egg for 80 coins, eight Lucky Eggs for 500 coins. Learn how to use Lucky Eggs to maximize your XP here!
Max Revives: Six Max Revives for 180 coins.
Lure Module: One Glacial Lure Module for 200 coins, One Mossy Lure Module for 200 coins, One Magnetic Lure Module for 200 coins, One Rainy Lure Module for 200 coins, One Lure Module for 100 coins, Eight Lure Models for 680 coins. Learn how to use Lures here!
Egg Incubator: 150 coins, lasts for three uses.
Item Bag: 200 coins, increases your item storage by 50 slots. This upgrade is permanent.
Pokemon Storage Upgrade: 200 coins, increases how many Pokemon you can carry by 50. This upgrade is permanent.
Team Medalion: 1,000 coins, allows you to switch teams. It can only be purchased once every 365 days.
Next: The best Pokemon Go accessories
Pokecoins are a valuable resource and they're rare (and expensive!). Thus, make sure you spend them wisely. If you have any stories, tips, or tricks regarding Pokecoins, tell us about them in the comments!