Why would you need to backup your Android phone? It isn't hard to imagine a scenario where you accidentally spill a coffee on your phone or perhaps lose it to a pick-pocket while on vacation. Enter cloud backups. Having an up-to-date cloud backup ensures that you can access your data from anywhere. Sign in to a web browser to glance at every image you've shot or perhaps a copy of a document you accidentally deleted.
Sure, you can make local backups of your phone data or sync down all your photos, but it is a good idea to maintain a cloud back up as well. Why? Well, for one it makes it infinitely easier to switch over to a new device. All your data is right where you left it. Lost a phone? Sign-in with your credentials and continue using your new device as usual.
See also: How to make local backups of your Android phone data
Additionally, hard drives are prone to failure. It isn't a matter of if, rather when. A good backup strategy always includes an off-site copy and for most consumers, cloud backup is a great alternative to rolling your own datacenter.
Information stored in the cloud also means that you won't need to rely on clunky solutions like cables. Simply connect to the internet, connect to your cloud server of choice, and bring that data back into your phone. Read on to learn how to backup your Android phone to the cloud.
---
Backing up to your Google Account
One of the first things you do while setting up your Android phone is to add in your Google account. If you've got your account signed-in, the OS will backup your Android phone settings and enable synchronization for contacts, bookmarks, passwords and more by default. If you use Chrome as the main browser on your computer, you will also find all your bookmarks and passwords up to date on your phone. Nothing else to do here.
Next up, is photos. Cameras have fast become the most important differentiating factor while buying a new phone and keeping them safely backed up is just as important. As it turns out, Google Photos is perhaps the best photo backup service around. There are two options available here. You can either back up all your images in high quality with just a bit of compression applied, or pay for uncompressed backups using your Drive storage.
Credit:
Edgar Cervantes / Android Authority
Google's compression quality is very good and most users will rarely notice a difference between the compressed and uncompressed versions. In fact, if you rarely blow up your images on a big screen, the free tier should suffice for you. There's one thing to keep in mind, though: Google Photos will end its free unlimited high quality upload offer starting June 1st, 2021. From then on, all content will count towards your Google Drive storage limit.
Credit:
Edgar Cervantes / Android Authority
Google offers a range of storage tiers that go from 100GB to multiple terabytes of storage. This will let you backup all your photos and videos just as they were. This storage space is shared with Google Drive and can be used to store other files as well.
Finally, Google will automatically backup your Android phone text messages as well. In case you want to trigger an instant backup, just head over to the backup tab under settings and tap on backup now to instantly beam up all your latest text messages.
---
Do I have other options to back up photos to the cloud?
Credit:
Edgar Cervantes / Android Authority
If you don't want to backup your Android phone to Google's servers, there are more than a few options available. Google Photos might be one of the simplest photo backup services around, but it doesn't necessarily offer granular control over how you organize your images.
If you subscribe to Amazon Prime, and there's no reason you shouldn't, you get access to unlimited photo backups, in original quality using the Amazon Drive app. This is a fantastic deal if you are already subscribing to the service for fast deliveries. Otherwise, 100GB of storage on Amazon Drive costs $19.99 per year which isn't too bad either for the peace of mind that comes with securing all your images.
Also read: The best free cloud storage services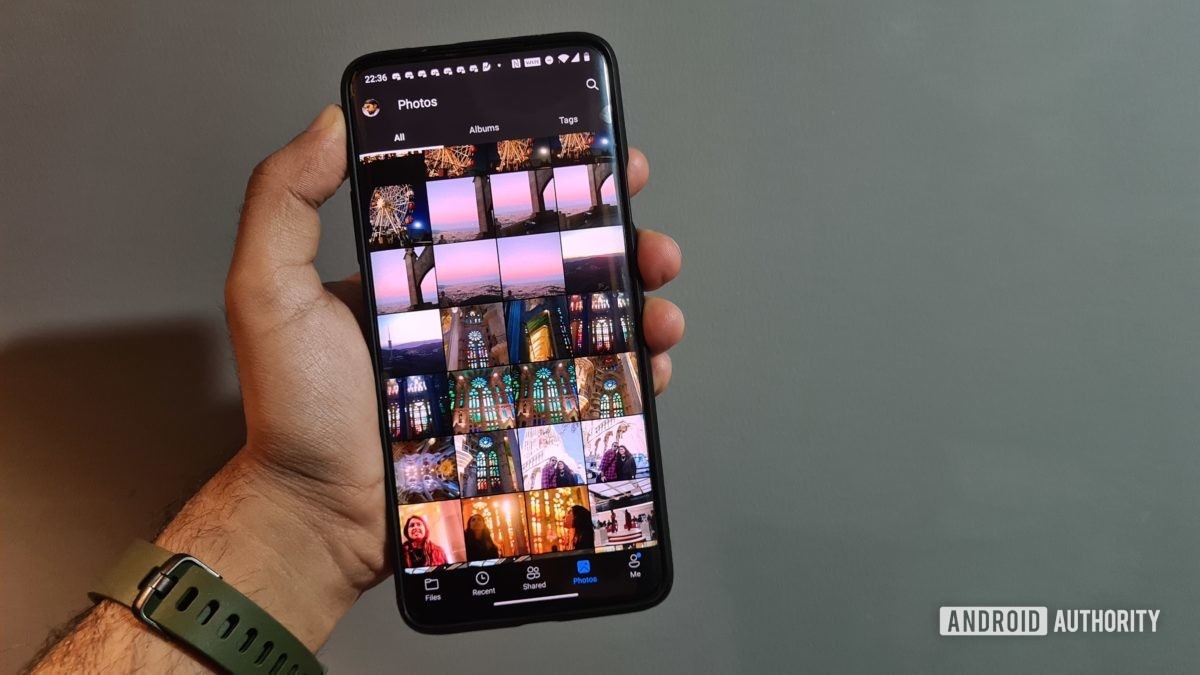 Elsewhere, OneDrive is a great option to backup your Android phone photos as well. If you subscribe to Office 365, Microsoft bundles in 1TB of cloud storage. That's a lot of images. The OneDrive app can automatically backup all your images and videos to the cloud. You can then sign in to the website or download the OneDrive app for your computer to view or download those images. In case you don't subscribe to Office 365, OneDrive offers up to 5GB of storage for free with 100GB of storage costing $1.99 a month. Not bad.
You can also look at more conventional photo storage solutions like Sumsung and Flickr. Both services are geared towards photographers, and as such, offer advanced features like a dedicated website to showcase your images, statistics for views, and even options to print out your images. Apps for both services allow you to automatically backup images to a pre-selected album making it easy enough to find a cloud-based home for all your photographs. Smugmug prices start at $7 for a month of unlimited storage while Flickr Pro starts at $6.99 a month. Since both services offer free trials, you can give them both a shot to see which one works out better for you and if you sign up for a longer duration, there are better deals to be had.
---
Backing up messages to the cloud
While your device will automatically backup your Android phone SMS messages to the cloud, there are several apps that claim to do it better.
As the name suggests, SMS organizer can sort out your messages and make sure that spam and promotional messages stay tucked away in a corner. It is clever enough to sort out bank receipts and credit card statements in separate tabs so that you can easily look those up when needed. Finally, yes, it backs up all your messages to Google Drive and lets you easily sync those messages back whenever you want. I've been using the app for years and can vouch for it. It just works.
Another option is SMS Backup+. This free app automatically sends your SMS threads to Gmail and stores them under the label "SMS". Not only that, SMS Backup + also backs up MMS and call log entries. The setup process is a bit cumbersome, but I like the fact that you can glance at archived messages right in your email inbox. You can download SMS Backup + from the Google Play Store.
With the sheer number of options available, there's really no reason not to backup your phone to the cloud. Even if you prefer local backups, there's no harm in maintaining a secondary backup. It takes a few minutes to set up and offers the reassurance that your data is secure even if you lose your phone.
What's your preferred backup strategy? Let us know in the comments section.