Worldwide consumer spending and first-time installs of mobile apps climbed to $31.8 billion and 36.7 billion, respectively, across Apple's App Store and Google Play in the first quarter of 2021, preliminary Sensor Tower Store Intelligence data reveals. Although consumer habits may very well shift as in-person spaces begin to open up once again globally, these figures indicate a lasting lift for the mobile market from the ongoing COVID-19 pandemic. Consumer spending grew 31 percent year-over-year from $24.3 billion, outpacing the growth experienced in the first half of 2020 when compared to the same period in 2019.
Worldwide Mobile App Revenue and Downloads
Overall consumer spending in apps grew 31 percent year-over-year from $24.3 billion, outpacing the growth experienced in the first half of 2020 when compared to the same period in 2019. Consumer spending on in-app purchases, premium apps, and subscriptions climbed 28 percent to $20.4 billion globally on Apple's App Store from nearly $16 billion in the first quarter of 2020. This was outpaced by the growth experienced by Google Play, which saw consumer spending grow 36 percent Y/Y to $11.4 billion from $8.4 billion.
While consumers are still spending more on the App Store, the split between the two platforms shrank to when compared to 1Q20. This past quarter, Apple's marketplace saw 79 percent more spending than Google's store, while in the year-ago quarter, Apple generated 89 percent more revenue.
The top three highest-earning apps across both stores globally in the first quarter of 2021 remained the same from last year. Although TikTok hasn't regained access in markets such as India where it was banned last year, it was the highest earning app across both stores. The app, which includes the iOS version of Douyin in China, saw its revenue climb 104 percent Y/Y.
YouTube came in at No. 2 with its revenue growing 29 percent Y/Y, and the No. 3 grossing app, Tinder, experienced 6 percent Y/Y growth. Manga reader Piccoma and Tencent Video rounded out the top five apps at No. 4 and No. 5.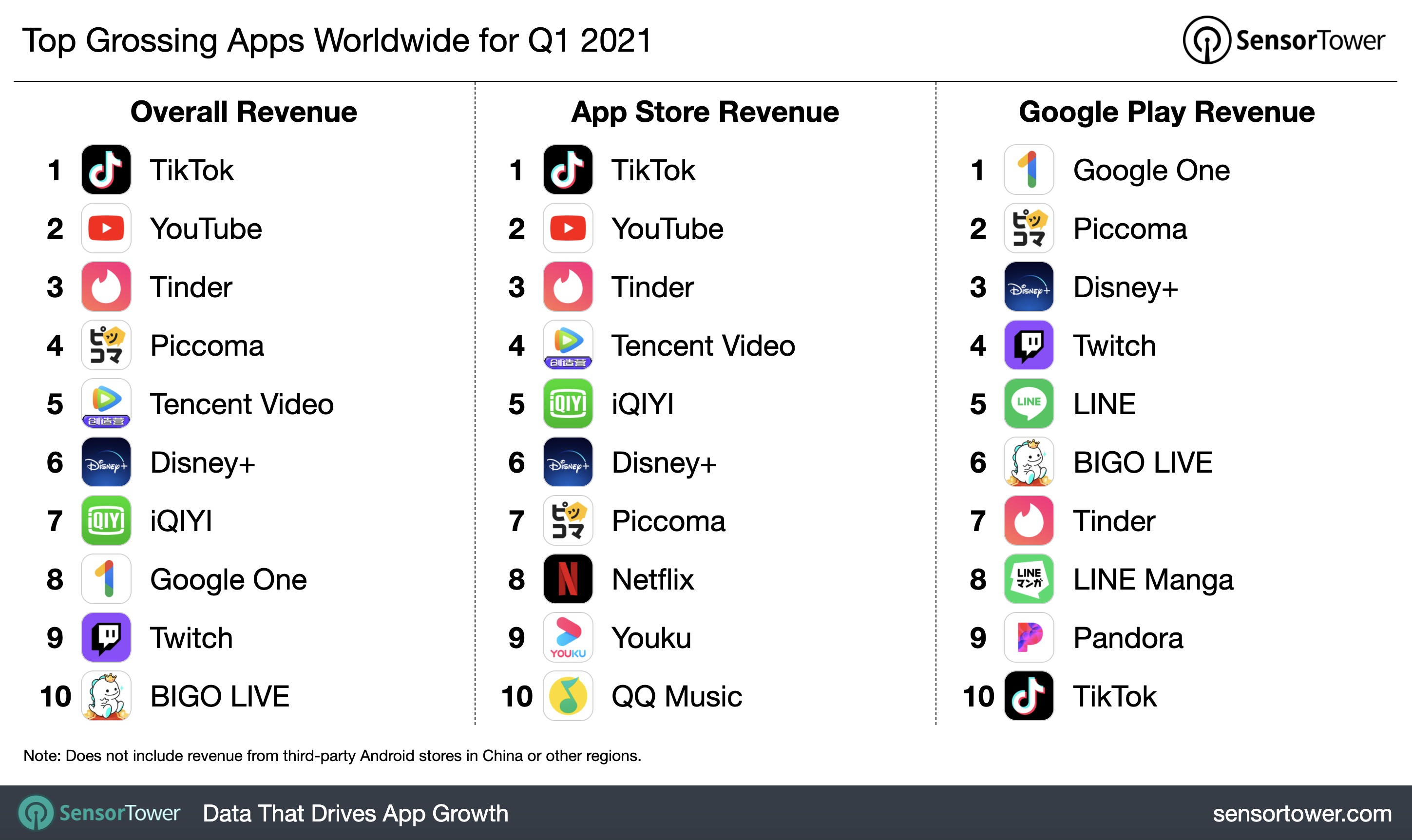 Across both stores, installs grew 9 percent from 33.7 billion to 36.7 billion in the first quarter of 2021.
According to Sensor Tower estimates, first-time app installs in 1Q21 declined 8 percent on Apple's App Store from 9.2 billion to approximately 8.5 billion. This decrease was likely driven by the market in China normalizing following a significantly outsized 1Q20 there as the COVID-19 pandemic began. China has since made major progress towards a sense of societal normality, which has resulted in the volume of mobile app installs there returning closer to a pre-COVID level.
Conversely, Google's marketplace saw an increase of 15 percent as its installs grew to 28.2 billion from 24.5 billion in the year-ago period. Google Play's increased installs while the App Store showed negative Y/Y growth is likely tied to the platform's substantial Indian user base. Where iOS saw a significant boost in 1Q20 due to COVID-19's spread in China, India wasn't affected until early 2Q20, which made that an outsized quarter for new installs there. Google Play installs for Q2 could follow a similar Y/Y trend to the App Store as a result.
TikTok claimed the top spot among the most-downloaded apps in 1Q21 as well, though its installs were down 44 percent Y/Y, likely due to its ban from India's stores.
Facebook and Instagram ranked at No. 2 and No. 3, and rounding out the top five were messaging apps WhatsApp and Telegram. Telegram saw explosive growth in the first quarter of the year and its installs climbed 149 percent Y/Y.
Worldwide Mobile Game Revenue and Downloads
Mobile game spending grew 25 percent to $22.2 billion globally in 1Q21. Although this trailed the Y/Y growth experienced by apps overall in the first quarter, this exceeded the 16 percent growth seen between 1Q20 and 1Q19. Apple's App Store saw about $13 billion in spending, up 21 percent from the year-ago quarter, while Google's marketplace grew 31 percent to $9.2 billion.
Perennial blockbusters PUBG Mobile and Honor of Kings maintained their spots as No. 1 and No. 2 among the five top-earning games. PUBG Mobile, including its Chinese localization Game For Peace, recently surpassed $5 billion in lifetime earnings and it saw its revenue grow 3 percent Y/Y in 1Q21. Honor of Kings experienced 43 percent Y/Y growth when comparing this last quarter's consumer spending to the prior-year period.
In the No. 3 spot was miHoYo's smash hit Genshin Impact, which has now generated over $1 billion in consumer spending since its launch in September. Niantic's Pokémon Go and Roblox Corp.'s Roblox rounded out the top five, with Pokémon Go seeing 80 percent Y/Y growth and Roblox experiencing 77 percent growth compared to 1Q20.
First-time installs of mobile games grew 5 percent Y/Y last quarter, reaching more than 14 billion across both stores. This was driven by adoption on Google Play, which saw installs grow 13 percent to 11.8 billion. Conversely, the App Store saw mobile game installs decline 23 percent to 2.3 billion when compared to the prior-year quarter. This mirrors the decrease seen in non-game installs on the App Store, and is likely also due to an outsized 1Q20 where markets such as China saw a spike in first-time installs at the beginning of the COVID-19 pandemic.
Supersonic Studios' Join Clash 3D was the most-downloaded mobile game in 1Q21, followed by Innersloth's party title Among Us, which recently launched new in-game content that may prolong consumer interest. No. 3 and No. 4 were Crazy Labs' Phone Case DIY and SayGames' DOP 2, and rounding out the top five was Garena's battle royale Garena Free Fire.
Entering the Second Quarter
As some markets around the world begin to partially reopen in-person spaces, consumer habits will likely begin to shift. However, it remains clear that COVID-19 supercharged trends in 2020 and will have a lasting impact on the mobile market.
Our full report on global app adoption and consumer spending in the first quarter of 2021 is coming soon and will include further analyses of top publishers, apps, and trends across both Apple's App Store and Google Play.
Note: The revenue estimates contained in this report are not inclusive of local taxes, in-app advertising, or in-app user spending on mobile commerce, e.g., purchases via the Amazon app, rides via the Lyft app, or food deliveries via the DoorDash app. Refunds are also not reflected in the provided figures.
Sensor Tower's Store Intelligence platform is an Enterprise level offering. Interested in learning more?