The world's top 10 English-language mental wellness apps in April generated 2 million more downloads compared to January as countries across the globe begin lifting lockdown restrictions tied to the COVID-19 pandemic, Sensor Tower Store Intelligence estimates show.
For this analysis, Sensor Tower studied the top mental wellness apps, defined as those focused primarily on improving mental wellbeing. April 2020's top performers by downloads were dominated by meditation apps, with Calm placing at No. 1 with 3.9 million downloads, Headspace at No. 2 with 1.5 million installs, and Meditopia at No. 3 with 1.4 million.
Combined, the top 10 mental wellness apps accumulated close to 10 million downloads last month, up 24.2 percent from the installs they generated in January 2020. Calm was the biggest driver of new installs, picking up more than 911,000 more downloads than in January, an increase of nearly 31 percent, while Relax: Master Your Destiny picked up 391,000 first-time downloads, 218 times more than in the first month of 2020.
Out of the top 10, eight of the apps grew their number of monthly installs in April compared to January. Most apps also increased their number of new downloads month-over-month in March and April.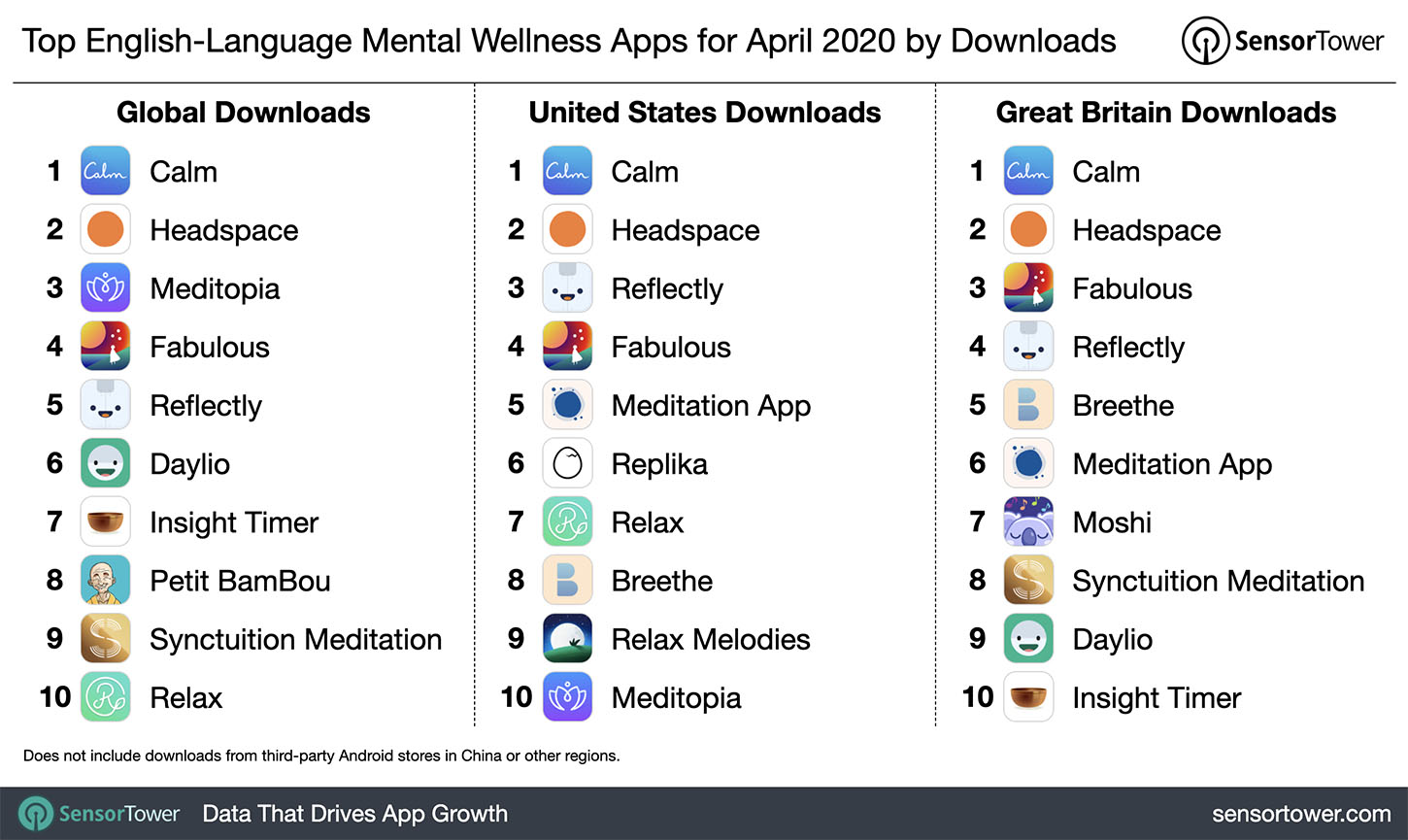 Top Mental Wellness Apps in the United States
In the United States, the top 10 mental wellness apps generated more than 4 million downloads in April, up 17.6 percent from January's total of close to 3.4 million installs for the same apps.
Calm generated the most downloads, picking up 1.6 million first-time installs in April, an increase of 30.7 percent month-over-month, and up 36 percent compared to January. Headspace ranked No. 2 in April, while Reflectly rounded out the top three.
The fastest rising app for downloads between January and April was Relax: Master Your Destiny, which grew by 274 times to 223,000 downloads. This was followed by Meditopia, which increased new installs by 250.2 percent to more than 151,000, and Meditation App, which grew 67.8 percent to 230,000.
Of the top 10, nine apps saw a rise in downloads in April compared to January.
Top Mental Wellness Apps in Great Britain
While growth was slower in Great Britain, the top 10 mental wellness apps in April still saw a 2.2 percent increase in downloads compared to January, generating 803,000 new installs.
The top two apps were the same in the U.S., with Calm picking up 254,000 downloads, down approximately 8 percent from January, and Headspace accumulating 172,000 new installs, up about 19 percent.
Great Britain's fastest rising mental wellness apps in the top 10 between January and April were Synctuition Meditation, which saw a 39 times increase in downloads to 44,000, Meditation App, which increased new installs by 126 percent to 48,000, and Moshi, which grew 106.4 percent to 45,000.
Overall, seven of the top 10 mental wellness apps in April accumulated more downloads last month than they did in January.
Mental Health Support
Global demand for mental wellness apps has increased during the COVID-19 pandemic and lockdowns. Consumers are turning to their smartphones more than ever before for everything from entertainment to fitness and shopping, and they're also seeking support for their mental health during this time. Meditation apps in particular have seen a surge in popularity, but it remains to be seen if use of these apps becomes a permanent habit for these new users, or if, as lockdown restrictions are lifted, consumers decide they no longer need them.
Sensor Tower's Store Intelligence platform is an Enterprise level offering. Interested in learning more?