Wrestling has gone up and down in popularity over the years. Entertainment industries like the WWE and businesses like UFC are the cornerstones. There are also fans of things like Olympic wrestling. The unfortunate truth is there aren't many decent wrestling games on mobile. The mechanics are hard to get right, especially on a touch screen and with all the moves, it's just a daunting task for a developer. Most of your options are arcade wrestling games with some gimmick to make things fun. Still, there are some decent options to try. Here are the best wrestling games for Android!
80's Mania
Booking Revolution
EA Sports UFC
Console emulators
MMA Fighting Clash
The Muscle Hustle
Real Wrestling 3D
Rowdy Wrestling
Wrestling Revolution 3D
WWE games
---
80's Mania
Price: Free to play
80's Mania is a business simulator with an 80's wrestling theme. It doesn't have any real wrestlers, but there are some obvious homages to the greats of that era. You get a bunch of wrestlers, match them up, create rivalries, and once a month you do a supercard where you resolve all of those rivalries. It's retro, charming, and often funny. Plus, the stats are fun to view as you create your little wrestling company. It's not the best game, but it's certainly fun.
---
Booking Revolution
Price: Free / $2.99
Booking Revolution is by the same developers of the popular Wrestling Revolution 3D. This one, however, focuses entirely on the back end of the wrestling industry. You get control of a promotion and your job is to knock it out of the park. Players deploy their wrestlers in a variety of matches, try to improve the ratings and plan out matches to excite the crowd. This one actually gets kind of deep, down to increasing enjoyment if a popular wrestler has a near fall and whether or not the heel and face have chemistry together. The game hasn't seen an update since 2018 so we're a bit worried that it's abandoned. Hopefully the developer is still working on stuff in the background.
---
EA Sports UFC
Price: Free to play
EA Sports UFC is definitely among the best wrestling games. It features prominent fighters from both the male and female circuits. There are a total of 70 fighters over four divisions. You can level up characters as you play. This unlocks additional move sets. The game also features live events, leaderboards, and more. It's an EA game. That means it's full of annoying in-app purchases. However, the mechanics are fairly solid. You'll spend a lot of time grinding. This one is a little old, but EA apparently still releases updates for it and it's one of the few big wrestling games.
---
Emulators
Price: Free / Varies
A lot of the great wrestling games of our time came out on older consoles. A couple of my favorites were Wrestlemania 2000 and No Mercy for the Nintendo 64. Additionally, the PlayStation had some good ones and even the SNES had some decent arcade wrestling titles. You can relive those with emulators. Unfortunately, there aren't emulators for modern consoles, but from about the PlayStation and N64 era on back you have plenty of options. We have ePSXe linked at the button for PlayStation fans, but you can check out our best emulators for Android list if you want to explore other consoles too.
---
MMA Fighting Clash
Price: Free to play
MMA Fighting Clash is one of the generic wrestling games. It features a similar style to the official UFC game. However, it doesn't quite have the same level of polish. The game features multiplayer, various weight classes, over 60 characters, and more. You can also customize the characters with over 100 different moves. The mechanics are fairy self explanatory. You tap various buttons to make the fighters do various moves. It's closer to an actual wrestling game than you'd normally find. The reviews are fairly positive as well. However, make no mistake, the game definitely still needs polish. It's a free download so it won't cost you anything to try it.
---
More posts about
Android games!
10 best auto chess and auto battle games for Android

Joe Hindy


10 best rhythm games for Android

Joe Hindy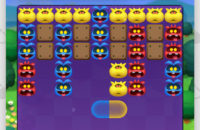 10 best match-three games like Candy Crush Saga on Android

Joe Hindy


5 Android apps you shouldn't miss this week – Android Apps Weekly

Joe Hindy


10 most expensive Android apps and games

Joe Hindy


5 Android apps you shouldn't miss this week – Android Apps Weekly

Joe Hindy


15 best adventure games for Android

Joe Hindy


15 best action games for Android

Joe Hindy


10 best crossword games for Android

Joe Hindy


15 best gacha games and mobile RPGs for Android

Joe Hindy


---
The Muscle Hustle
Price: Free to play
The Muscle Hustle is a character collector game with a wrestling theme. Players collect, train, and level up hundreds of wrestlers. Each one has unique stats and abilities. The game play is actually kind of funky. It has a pinball or billiards style where wrestlers are depicted in a ring as circles. They bounce off of each other until one wins. You toss them in and they bounce around. It's a decently deep game with a lot of content, even if there is no actual wrestling. There are some homages to real wrestlers, but no actual wrestlers.
---
Real Wrestling 3D
Price: Free to play
Real Wrestling 3D goes for the more authentic wrestling experience. Players get a button controller on screen and a decent camera angle while they grapple, perform moves and strikes, and try to win the match. The game features over 140 fictional wrestlers along with a couple of game types. We particularly liked the cage match mode. The graphics are a little bland, but you don't play this one for the looks, you play it for the mechanics and this one has reasonably good mechanics for the genre.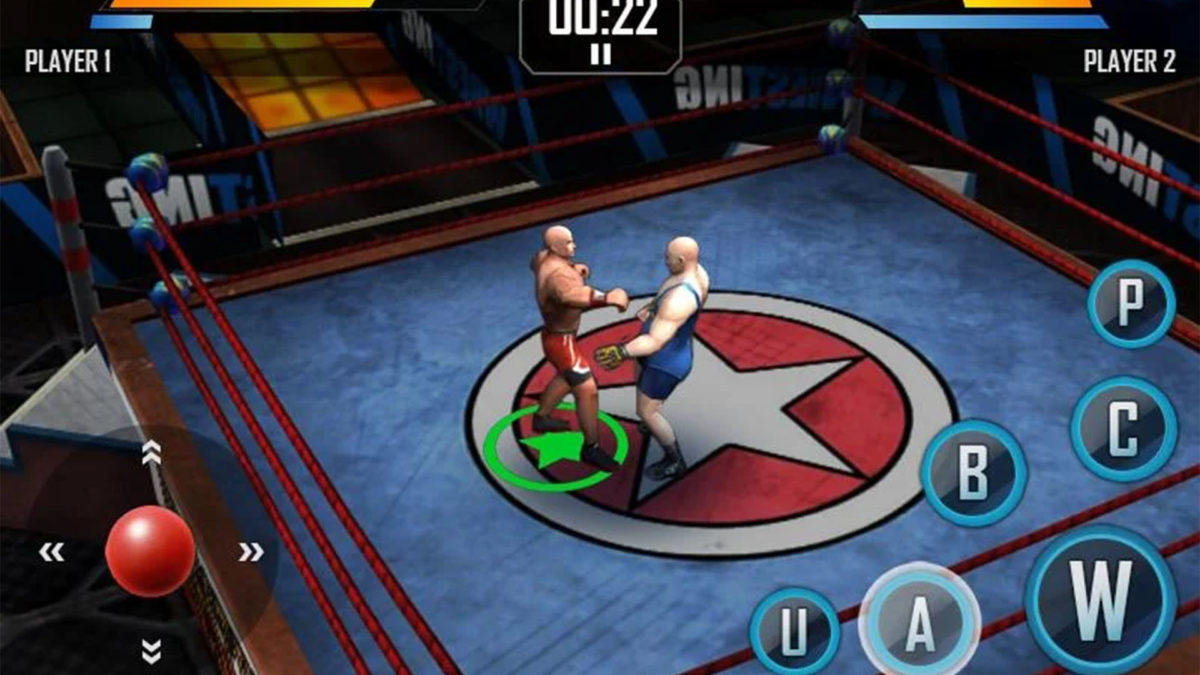 ---
Rowdy Wrestling
Price: Free
Rowdy Wrestling is a simple arcade wrestling game. It features easy controls, plenty of violence, and 2D, retro style graphics. It's basically a massive battle royale. You beat up on opponents and then knock them out of the ring. The game also features 55 playable characters as well as three game modes. There are some occasionally annoying advertisements, but it's a little difficult to complain too much when the game itself is completely free. We would have liked a premium version to remove those ads, though.
---
Wrestling Revolution 3D
Price: Free / $4.99
There are two games in the Wrestling Revolution franchise. Both of them are surprisingly popular mobile wrestling games. The newest in the series is Wrestling Revolution 3D. This one has two game modes. A booking mode is essentially the creative mode. You can do pretty much whatever you want. The fight mode puts you in the ring to duke it out. It features the usual set of strikes, grapples, taunts, pins, etc. The game even has gamepad support. Unlike many, it's a pay-once game for $4.99 as an in-app purchase. It looks, feels, and plays like those old wrestling games on the Nintendo 64. It's not bad.
---
WWE games
Price: Free to play
There are a variety of WWE games on mobile with wrestling themes. However, none of them are pure wrestling games. WWE SuperCard, for instance, is a card collecting game with a wrestling theme. You get the idea. These games have wrestling graphics and animations, but not the same level of wresting mechanics as something like Wrestling Revolution. Still, it's a viable option in the space if you just want a wrestling themed arcade game to kill a few minutes. We have WWE Mayhem linked at the button below. You can check out our best list for WWE games here!
---
If we missed any good wrestling games, tell us about them in the comments! You can also click here to check out our latest Android app and game lists!