Mother's Day is fast approaching it's time to sit down and figure out what you'll be doing. It's true that your Android device likely won't be the center of any Mother's Day plans. However, you can still use your device to help you find ideas, plan things, or buy gifts. It's also true that none of the apps on this list are specifically for Mother's Day, but they can help you make it the best one possible. Here are the best Mother's Day apps for Android. These apps rarely change from year to year, and are mostly to help with ideas. We hope you enjoy!
1-800-Flowers
Allrecipes Dinner Spinner
Amazon Shopping
Etsy
Eventbrite
Google Photos
OpenTable
Pinterest
Uber Eats
Retail store apps
Read more:
The best shopping apps for Android
The best photo editor apps for Android
---
1-800-Flowers
Price: Free / Prices may vary
Flowers are one of the classic Mother's Day gifts. 1-800-Flowers is probably the best flower ordering app out there. Thus, it just makes sense. The app features tons of bouquets to choose from. Additionally, you can schedule it for same day delivery in many areas. There is even international delivery options. Of course, the price ranges vary depending on how complex the bouquet is and what flowers you include. Still, it's one of the better Mother's Day apps if you want to go with a classic approach.
Credit:
Joe Hindy / Android Authority
---
Allrecipes Dinner Spinner
Price: Free
Allrecipes Dinner Spinner is a cooking app. There are thousands of recipes to choose from. You can filter based on dietary concerns or just whatever you happened to be in the mood for. Additionally, you can add them to your favorites so you can find them later. It also includes more than a thousand recipe videos in case you need a little help. Cooking a dinner for your mom isn't a bad idea considering how many she likely cooked for you. It's one of the Mother's Day apps worth considering.
---
Amazon Shopping
Price: Free
Amazon Shopping is a bit of a boring pick, but it's still very useful as a Mother's Day app. You can find all kinds of gift ideas there. You can stock your mom up on her favorite hobby or collectible items. Shipping is fast and the site is, of course, one of the most trustworthy on the Internet. The prices are usually pretty good too. You already know about Amazon and why it's here.
---
Etsy
Price: Free / Item costs vary
Etsy is one of the better Mother's Day apps. It's a great place to find one-of-a-kind crafts, gifts, and other stuff. Just because you can't make a gift yourself doesn't mean it can't be unique, right? The app lets you browse the entire site, talk directly to shop owners, find recommendations, and check out shipping info after you've made a purchase. It's a good choice for finding unique stuff.
---
Eventbrite
Price: Free / Varies
Eventbrite is one of the better Mother's Day apps for going out on the town. It has a list of events that are happening in your area. Additionally, you can even purchase tickets for those events through the app. The events include concerts, festivals, classes, shows, and more. It's worth a look to see what's happening on Mother's Day weekend in your area. Maybe there's something your mom will want to check out. If you like the idea, but this app isn't doing it for you, other apps include Nearify, Eventful, and OMGWhen. Facebook's Events feature also works well for this. They offer similar services.
Credit:
Joe Hindy / Android Authority
---
Google Photos
Price: Free / Varies
Google Photos is a photo backup app. However, it can do more than that. You can edit photos once they're backed up. At least you can a little bit. Most importantly, you can add them to albums. Once albums are created, you can make them public and share them with your friends and family. You can likely see where I'm going with this. Any photos you take with your mom on Mother's Day can backed up here permanently. You can then make albums to share with her, Facebook, or wherever else. It's a nice way to preserve the memories. Plus, Google Photos has an often missed feature where you can order a scrapbook from the photos you upload. It's a little expensive, but they work great as gifts.
Credit:
Joe Hindy / Android Authority
---
See more:
The best free Android apps available right now
The best to-do list apps for Android
---
OpenTable
Price: Free
OpenTable is an application that allows you to browse restaurants in your area. You can also make reservations directly from the application (where that functionality is supported). Worst case, you can call them up on your own to make reservations. The service boasts worldwide support with over 32,000 available restaurants. You can also explore your area to find something new, manage your reservations, and you can even send messages to your friends and family to help get everyone on the same page. It could be very useful on Mother's Day if you plan on taking her out to eat.
---
Pinterest
Price: Free
The whole point of Pinterest is to find interesting things to make, buy, or do. This app can be very helpful on Mother's Day if you're stumped and don't know what to do. You'll find a variety of things, including DIY gift ideas, fun items to buy, and activities that you can do together. It also has recipes, designs for things like gardens, artwork, and other interesting arts and crafts. What makes it so appealing for this list is that it's a total catch-all. There really isn't much that you can't find on Pinterest. You can also find some neat ideas on Tumblr.
Credit:
Joe Hindy / Android Authority
---
Uber Eats
Price: Free / Delivery costs vary
Uber Eats is one of many services that deliver restaurant food directly to your door. Other notable options include DoorDash, GrubHub, and Eat24. Basically, you use the app to order food from a restaurant and a driver brings it to you. This year (2020) is a bit unique with the pandemic going around so going out to eat may not be the best option. However, you can still get that same food delivered. Uber Eats is the most popular and most famous of the bunch, but the one that works best for you may be different. All of the apps are free but deliveries cost money. You can check out a full list of good food delivery apps here.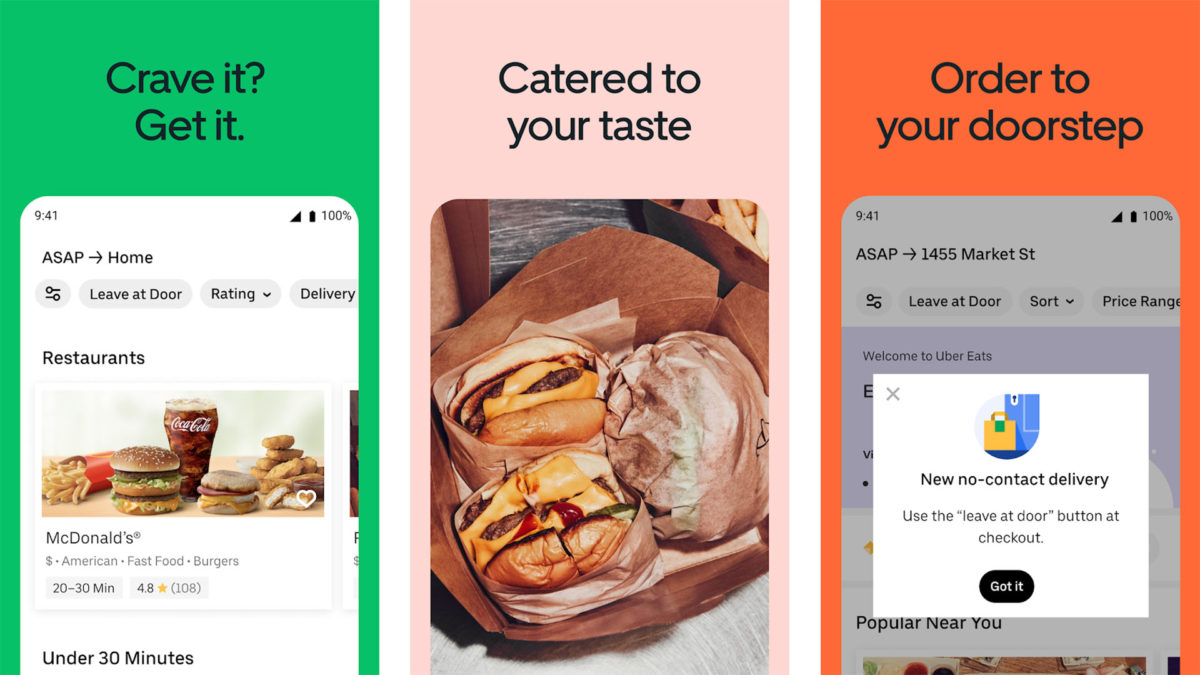 Credit:
Joe Hindy / Android Authority
---
Retail store apps
Price: Free / Varies
Retail stores always have big Mother's Day sales. You can find things like gift cards, clothing items, jewelry, electronics, and other such things on sale. We can't recommend a specific store because we don't know what your mom likes. There is Best Buy if she's into electronics, Kohl's if she's into clothing and kitchen items, Target if you need something fairly generalized, and plenty of other options. We have Kohl's linked up at the button below but you can easily find other retail apps in the Play Store.
---
Thank you for reading! Try these out too:
The best Android apps available right now
The best camera apps for Android
If we missed any of the best Mother's Day apps, tell us about them in the comments! You can also click here to check out our latest Android app and game lists.