Driving is a major form of transportation all over the world. You already knew that, though. It's generally good practice to not use your smartphone while driving. However, there are some apps that can be genuinely helpful. We're telling you here and now, don't text and drive. Have one of these apps read them out loud instead. Here are the best driving apps for Android!
The best driving apps for Android
Android Auto
AutoMate
Drivemode
Google Assistant
GPS Speedometer and Odometer
HERE WeGo
Google Maps
Waze
Music and podcast apps
Car manufacturer apps
---
Android Auto
Price: Free
Android Auto is one of the essential driving apps. You pop this on your phone and then plug your phone into your car. Then, you use your car's existing display to engage with Android Auto. It makes managing your media, messages, and navigation much easier while on the road. It can read texts out loud. You can also respond to them with your voice, thus leaving your hands for the important task of not crashing. Most modern cars have this by default or you can buy a replacement for your existing car's screen that has Android Auto. Additionally, it works on your phone without the need for a car if you prefer to use a mount instead. It's fairly solid overall and some cars even come with wireless Android Auto now for even more convenience.
See also: The best Android Auto apps to get the most out of it
---
AutoMate
Price: Free / Up to $3.99
AutoMate is a decent alternative to Android Auto or similar driving apps. It acts as a driving dashboard for you while you drive and your phone is mounted somewhere on your dashboard. It gives you quick access to your navigation app of choice, your phone dialer, your messages, media controls, and more. This one is especially neat because it comes with OBDII and Torque integration in case you use those tools as well. Some people have some issues with it so be sure to test it with your vehicle and your setup to make sure it works right for you.
---
Drivemode
Price: Free / Up to $4.00
Drivemode is one of the better driving apps. Like the others, this one makes stuff easier to use while driving. It responds to voice commands. It also has support for Google Maps, Waze, HERE Maps, many music apps, many messaging apps, and more. The app even has Google Assistant integration. It can read texts out loud, turn off notifications entirely for peaceful driving, and auto-reply to texts. We really liked the interface on this one as well.
See also: The best road trip apps for Android
---
Google Assistant
Price: Free

Google Assistant is useful for a lot of things. It also works well as a driving app. You can ask Google to do just about anything you need your phone to do. That includes playing music, responding to (or listening to) a text message, or searching for directions. It's not a full-on driving mode app like some others. However, it works well for people who want similar functionality. It's also completely free with no in-app purchases. Some vehicles also include Amazon Alexa which allows for similar functionality. If yours does, we recommend looking into that as well!
See also: Google Assistant guide: Make the most of your virtual assistant
---
GPS Speedometer and Odometer
Price: Free / $1.10

GPS Speedometer and Odometer is one of the better driving apps. It uses your GPS to calculate how fast you're going. It's not 100% accurate. No apps like this are. It'll give you a good indication, though. The app boasts a 98% accuracy when online and slightly less when offline. It'll also show your average speed, total distance traveled, maximum speed, and more. It won't read texts or anything like that. Not everyone needs that kind of stuff. This one is free with ads. You can pay $1.10 for the pro version.
---
Read more:
5 best car insurance apps for Android
10 best car rental apps for Android
---
HERE WeGo
Price: Free

Credit:
Joe Hindy / Android Authority
HERE WeGo is one of the better offline GPS apps out there. It has support for most countries around the world. You can download and use maps offline as you please. It can help find faster alternatives if there is a traffic jam. It also has integration with other apps to provide data on nearby businesses. It's a rock-solid navigation app. It's not as up-to-the-minute as Waze. It also doesn't have as much info on businesses as Google Maps. HERE WeGo does offline better, though.
See also: The best GPS apps and navigation apps for Android
---
Google Maps
Price: Free

Google Maps is one of the obvious driving apps. It has support for virtually the entire world. There is also information on local businesses, traffic conditions, public transit, and a whole lot more. The app also does offline maps and it's not difficult to use them. There are some restrictions, but nothing serious. It also features Google Street View so you can scout where you're going before you actually get there. Millions of people use this one for a reason. You probably do already. You should probably just keep using it.
See also: How to use Google Maps offline
---
Waze
Price: Free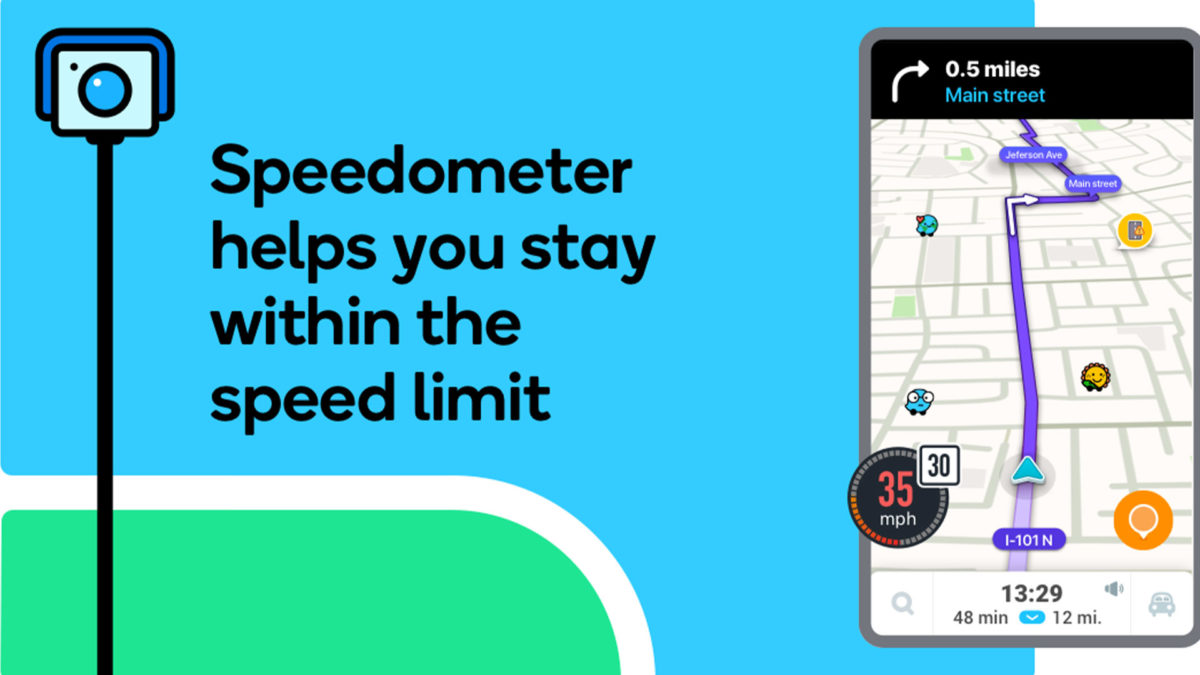 Credit:
Joe Hindy / Android Authority
Waze is another one of the really good driving apps. It focuses more on navigation than anything else. The app uses crowd-sourcing for traffic data. It shows up-to-the-minute traffic conditions. The app also shows police officer locations, accidents, and other potential obstacles. It also has some fun features, like various navigation voices from celebrities to spice things up a bit. It has support for Android Auto. The app isn't as powerful as Google Maps. It won't do offline as well as HERE WeGo. However, it does active traffic conditions better than pretty much any other service.
---
Whatever music or podcast apps you use
Price: Free / Varies per app

There are too many music streaming services to pick just one for a driving apps list. However, we can help you narrow it down a little bit. Apps like Spotify, Google Play Music, Apple Music, and several others allow you to download music for offline listening. That works great if you're road tripping through the boonies where there is no Wi-Fi signal. iHeartRadio and Pandora are great for just casual listening. TuneIn Radio, Podcast Addict, or CastBox are excellent for you talk show fans out there. They're all excellent driving apps. Especially for longer commutes or trips where it can get boring really quickly.
See also: The best podcast apps for Android
---
Car manufacturer apps
Price: Free / Varies

Credit:
Joe Hindy / Android Authority
Many modern vehicles have companion apps. These apps can sync with your car and give you all kinds of important information. You can see your fuel range, get quick details for your check engine light, and you can even contact OnStar in some cases. Some even allow things like a remote start for your car over the old key fob method. Each manufacturer has a different set of features. It all depends on what you own and what you're looking for. Some of these apps are rough around the edges. Not many third-party apps will give you fuel estimates, though. These apps usually have really long free periods. However, most of them eventually have a yearly subscription fee. Check with your dealer to find out more.
---
If we missed any great driving apps, tell us about them in the comments! You can also click here to check out our latest Android app and game lists!
Thank you for reading! Try these out too:
The best speedometer apps for Android
The best transit apps for Android