Bullet hell games are a unique subgenre in gaming. The genre made a minor return to the mainstream with the release of NieR:Automata and its impressively fun bullet hell sequences. It takes the fun of a shooting and reverses it on the player. There are still shooting mechanics. However, the point is to dodge bullets flying at you as well as shoot bad guys. Thus, it's somewhat different from your average shooting games.
Another name for the bullet hell genre is shoot 'em up (or shmup, for short), manic shooter, Danmaku (literally, bullet curtain), and STG (Japanese abbreviation for shooting games). It's a prominent mechanic in top-down aerial shooters and some action games. It turns out, there's a decent, if somewhat small, selection of bullet hells on Android. Here are the best mobile bullet hell games we could find.
⑨弾幕
AirAttack 2
Bullet Hell Monday series (and .Decluster Zero)
Guardian Girls
Mathmare
ShooMachi
Squadron
Sky Force Reloaded
Touhou Thousand Night Anamnesis
AKA TO BLUE and Danmaku Unlimited 2
Read more here:
15 best shooting games for Android
10 best FPS games for Android
---
⑨弾幕
Price: Free (with ads)
⑨弾幕 is a rare, free shoot em up game with plenty going for it. It has the utter chaos usually associated with the genre along with colorful retro graphics and plenty of challenge. It's a riff off of Touhou, a classic bullet hell game from the late 1990's and that's not the last time we'll use that name in this article. In any case, this is a good, basic shoot 'em up and it's entirely free with no in-app purchases.
---
AirAttack 2
Price: Free
AirAttack 2 is a World War II era aerial shooter. The game contains 22 campaign missions, a survival mission, surprisingly good looking 3D graphics, and five planes to play with. Some other game features include Android TV support along with external game pad support and you can play offline. The game play is good for the genre. Additionally, the controls are simple to learn. This one may bog down some midrange and lower end devices, but otherwise it's quite good.
---
Bullet Hell Monday series
Price: Free / Up to $4.99 each
Bullet Hell Monday is arguably the top game in the genre right now. There are three games in the series, including the original Bullet Hell Monday, Bullet Hell Monday Black, and Bullet Hell Monday Finale. The games all have retro style graphics with outrageously colorful and bright graphics with tons of bullet hell action. Each game has various chapters to play through, various upgrades to unlock, and simple controls. The developer also does .Decluster Zero, another outstanding shoot 'em up. All four games by this developer are outstanding, actually.
---
Guardian Girls
Price: Free / Up to $6.99
Guardian Girls is a decent shoot 'em up with colorful graphics and anime-inspired characters. The game includes a story mode that isn't for everyone but at least it's there along with the usual series of things like boss fights, colorful battles, and simple controls. You get a boss fight every ten levels. The game play is relatively smooth. Additionally, the game has a strong sound track and it's friendly for beginners. It's not the most popular, but that's okay.
---
Mathmare
Price: Free / Up to $2.49
Mathmare is a minimal style shmup without any actual shooting. Players dodge the game's various shooting patterns in order to proceed to the next level. This effectively cuts the amount of game play elements in half, but it's a neat premise overall. Experienced players in the genre may find this game kind of easy. Those newer to the genre will likely enjoy it way more. This is a great way to introduce yourself to the bullet curtain aspect of the genre. The game also runs pretty well on all of our test devices.
---
More:
15 best strategy games for Android
15 best Android games, ever!
---
ShooMachi
Price: Free to play
ShooMachi is a reasonably decent bullet hell game. It's a vertical shooter that takes place on the ground rather than in the sky. The mechanics are largely the same, though. You dodge bullets as you take down bad guys, upgrade your weapons and armor as you progress, and continue playing to unlock more stuff. The game also includes a couple of difficulty modes, various power ups and boosts, and more. Those who donate to the developer can remove ads permanently and get unlimited XP potions for quicker level ups. The only real issue is the game can get repetitive after a while and the game could use some new and more diverse levels.
---
Squadron
Price: Free (with ads)
Squadron is another one of the better free bullet hell games on mobile. The game play is a little bit slower than you would typically see, but it's smooth and otherwise enjoyable. The longer the game goes, the tougher it gets. You can also upgrade your ship as you progress. It's not the deepest game in the genre and there are 30 levels overall. However, it's tough to complain because the game is entirely free to play with no in-app purchases or ads.
---
Sky Force Reloaded
Price: Free to play
Sky Force is one of the most popular aerial shooters on mobile. Sky Force Reloaded is the latest in the series and it's pretty good. Players complete levels, upgrade their ships, and continue progressing in that manner. The graphics are colorful and excellent comparatively speaking. There are also nine ships to play with, bonus cards to deliver permanent buffs, and a few difficulty modes so you can play at your own pace. It's free to play with some microtransactions, but the in-app purchases are rather tame and don't affect game play all that much.
---
Touhou Thousand Night Anamnesis
Price: Free
Touhou Thousand Night Anamnesis is another game made in the Touhou style, but is not an official Touhou game. The game includes tons upon tons of bullets to dodge, boss rushes, and 12 total stages to play through. Players can select difficulty for an easier or tougher experience comparatively. Most reviews agree that this is about as close to an official Touhou game that you can get on Android so those who want to see the genre's roots should definitely try this one out. It's also free to play with no microtransactions.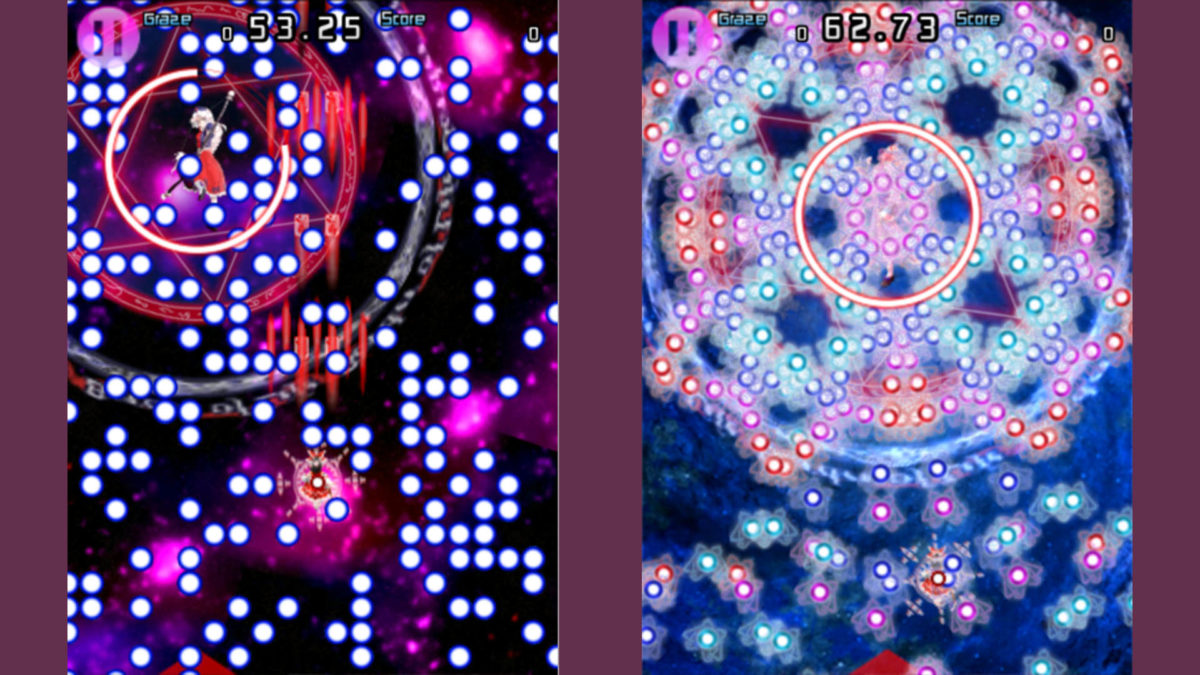 ---
AKA TO BLUE and Danmaku Unlimited 2
Price: $8.99 and $3.49, respectively
AKA TO BLUE and Danmaku Unlimited 2 are two older games in the genre that are both still really good. AKA TO BLUE has a 90's arcade quality to it in terms of both game play and graphics. It also includes an actual voice cast, beginner-friendly features like auto-bombs, and a few other fun things. Danmaku Unlimited 2 is a bit more traditional and difficult. It includes four difficulty levels, a couple of different game modes, and graphical settings for lower end devices. Both games saw their last updates in 2017 so we don't think the developers actively support either game right now. That makes it difficult to recommend since they are premium games (neither with in-app purchases, by the way). Still, both worked rather well on our test devices. AKA TO BLUE is available at the button below and Danmaku Unlimited 2 is available here.
---
Thank you for reading! Check these out too:
15 best arcade games for Android
15 best action games for Android
If we missed any great bullet hell games on Android, tell us about them in the comments! You can also click here to check out our latest Android app and game lists!