It's easier than ever to access good anime. Most mainstream services have a decent selection and services like Netflix even do anime original series like Little Witch Academia or Seven Deadly Sins. Additionally, there are more news sites and informational sites like My Anime List than ever before. Finally, with apps like Reddit, Twitter, Tumblr, and Discord, you can hang out and chat with other enthusiasts about various things. Here are the best anime apps for Android. Please note, we have a few manga apps here, but we have a list dedicated specifically to manga linked just below the list.
Comixology
FunimationNow
Drawing Tutorials: Anime and Manga
Hulu
MALClient
Netflix
Reddit
Viz Media
VRV
YouTube
---
Comixology
Price: Free / $9.99 per month
Comixology is one of the best comics apps out there. It is stocked with the usual stuff like super hero comics, DC and Marvel stuff, and things like that. However, it also has a fairly decent selection of manga. You can buy manga and read it right from the app. It also features device syncing. That means you can buy on one device and read on another. You can also subscribe to their service and read all the comics and manga you want to. It's one of the unexpectedly better anime apps.
---
FunimationNow
Price: Free / $5.99 per month / $59.99 per year
FunimationNow is probably the biggest source of English dubbed anime available in North America. You can find many shows there, including newer hits like My Hero Academia, Fairy Tail, Attack on Titan, Death Parade, and Assassination Classroom. In addition, there is a good amount of older content as well. The app has its ups and downs. You can quickly search for stuff and browse anime. However, its auto-play feature is a little broken and it often doesn't keep track of the episodes you watched. Plus the UI is weird to deal with and doesn't keep your queue as up to date as we'd like. We hope the app gets better over time. You can check out our recommendations for the best anime on Funimation here as well.
---
Drawing Tutorials: Anime and Manga
Price: Free
Those who want to draw anime have a lot of really good tutorial apps to choose from. Drawing Tutorials: Anime and Manga is one of them. It has a variety of tutorials, the ability to use your own photos, and some decent drawing tools. There is even a free drawing mode without tutorials so you can try on your own. It's great for beginners. Intermediates and advanced drawers may need something with a few additional features. On the plus side, the app is completely free to download and use.
---
Hulu
Price: Free trial / $7.99-$39.99 per month
Hulu is one of the better anime apps out there for streaming. It has a decent collection of stuff, including a lot of popular shows. The service itself is easy enough to use. You can also get a cheaper, limited commercial subscription or pay for a no-ads experience. The only downside of Hulu is that their anime collection can be a little inconsistent. Some anime may have a season of English dub while the second season is only subtitled and the third season is back to being dubbed again. Otherwise it's a good option for anime fans. This is also probably the best legit streaming site for Gundam fans. We have a list of the best anime on Hulu if you want to see what Hulu has to offer.
Credit:
Joe Hindy / Android Authority
---
MALClient
Price: Free / Up to $3.99
MALClient is a mobile app for MyAnimeList.net. The site is a valuable resource for anime fans. You can keep track of the shows you're watching, find new shows, rate shows, and even find additional information. The app handles all of those tasks with ease. The app also shows articles from the site. There is even community access to talk with other anime fans. There are several MyAnimeList clients. Most of them are surprisingly good. We wouldn't take exception if our readers recommended a different one in the comments.
---
---
Netflix
Price: Free / $8.99-$15.99 per month
Netflix is pretty much the best streaming app for most things. It's also a top three option for anime lovers. The services carries a variety of anime with both subtitles and English dubs. That includes a few original series, including The Seven Deadly Sins, Knights of Sidonia, Little Witch Academia, and a couple of others. There are a few prices you can go for. The $8.99 gives you one screen while the $15.99 lets you stream on four screens at once with UHD streaming (on available titles). Anyone looking for good anime apps should check it out. You can get a free trial to sample the goods before committing to the subscription. We have a list of the best anime on Netflix here as well if you want some recommendations.
---
Reddit
Price: Free / $3.99 per month / $24.99 per year
Reddit is kind of an obvious choice. There are subreddits for almost everything. That includes general anime. They're great spots for recommendations, discussion, and finding good spots to stream stuff. Some members of the community are a little south of sane, but generally everyone's fairly nice to each other. Additionally, many popular anime have individual subreddits. They can show where shows are streaming, when new episodes are coming, and more. We have the basic Reddit app linked here. There are tons of third party Reddit apps that are quite good as well.
---
Viz Media
Price: Free with in-app purchases
Viz Media is a large publisher of anime related stuff. It's one one of a few large publishers that take their mobile apps relatively seriously. Viz Media has a few apps. They have their own dedicated manga app that is decidedly average. They also have an official app for their Weekly Shonen Jump magazine. It's a very popular source for newer manga. You can also check out their manga app specifically for Naruto if you're into that one. All three apps work pretty well, although they'll all ask you spend some money. We hope other publishers take a hint and make some decent apps as well.
---
VRV
Price: Free / $9.99 per month
VRV is the best streaming service for anime fans, period. It includes several sites in one big package. That includes Crunchyroll (anime subs), HiDive (anime dubs), Rooster Teeth (RWBY), and others. Individual subscriptions for each one would cost vastly more than you'd pay for this all-in-one service. It's run by Crunchyroll. Thus, it has taken Crunchyroll's spot on his list. In fact, we'd recommend canceling your Crunchyroll subscription and migrating to this one. You can also find a bunch of non-anime stuff here. However, between Rooster Teeth (RWBY), HiDive, and Crunchyroll, you should have enough anime from the past and present to last you a good, long while. Every entrant in our best anime on Crunchyroll list is also available on VRV.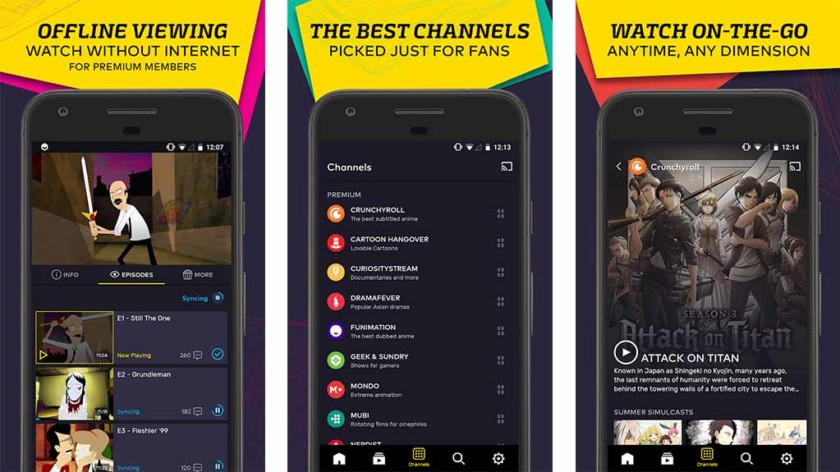 ---
YouTube
Price: Free / $12.99 per month
YouTube is an excellent app for anime fans. You can find all kinds of awesome stuff on this one. There are theme songs, soundtracks, and sometimes even an entire series or two just laying around. As a fan, you can make your own little contributions if you want to as well. On top of that, there are a variety of YouTube personalities that do videos about anime so you can find reviews, opinions, lists, and sometimes even news. YouTube is free with advertising. You can pay $12.99 per month to remove ads and enable background play.
---
If we missed any great anime apps for Android, tell us about them in the comments! You can also click here to check out our latest Android app and game lists!